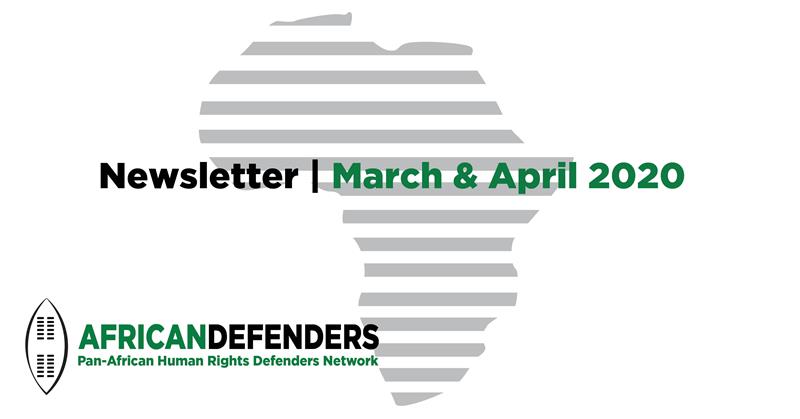 5 May, 2020


NEWS FROM AfricanDefenders | March & April 2020

*Covid-19 update:

As the COVID-19 pandemic has spread globally and extraordinary measures are being enacted to respond to this threat, DefendDefenders and AfricanDefenders had to be responsive to protect staff, partners, beneficiaries, and to play a positive role in this emergency. On 20 March 2020, DefendDefenders and AfricanDefenders started implementing a preventive social distancing plan. Staff was required to work remotely, and all visitors to the office have been temporarily banned, all in-person meetings have been cancelled, and all activities that require in-person contact postponed. At the end of March, a growing number of restrictions were imposed in Uganda, with a total lockdown for two weeks announced on 31 March 2020 which was further extended to 6 May 2020.
Highlights
Open letter on the Xenophobic, racist and inhumane treatment of Africans in China
After reports of African nationals facing xenophobic and racist treatment in China in the context of COVID-19 measures, AfricanDefenders initiated the process of writing a letter to H.E Moussa Faki, the Chairperson of the African Union Commission. The letter urged the commission and African leaders to demand a full investigation by Chinese authorities into the human rights violations against Africans living in China and called for immediate remedial action. The letter was endorsed by over 300 civil society organisations (CSOs), women organisations and feminist movements, labour and students' movements, youth organisations, and professional associations. It was also endorsed by over 1700 individuals within and outside Africa including lawyers, judges, scholars, businesspeople, clergy, artists, activists and journalists. The letter also featured in local news media like the Maverick Citizen from South Africa and PML daily from Uganda.
More from the Secretariat
On International Women's Day (8 March 2020), AfricanDefenders and DefendDefenders, in collaboration with Civil Rights Defenders, celebrated the essential work done by courageous women human rights defenders (WHRDs) across the continent, with videos profiling five WHRDs from Sudan, Cameroon, Togo, Uganda, and the Democratic Republic of the Congo (DRC). We also published a statement with other partners calling on state authorities in Africa to ensure the protection and well-being of WHRDs;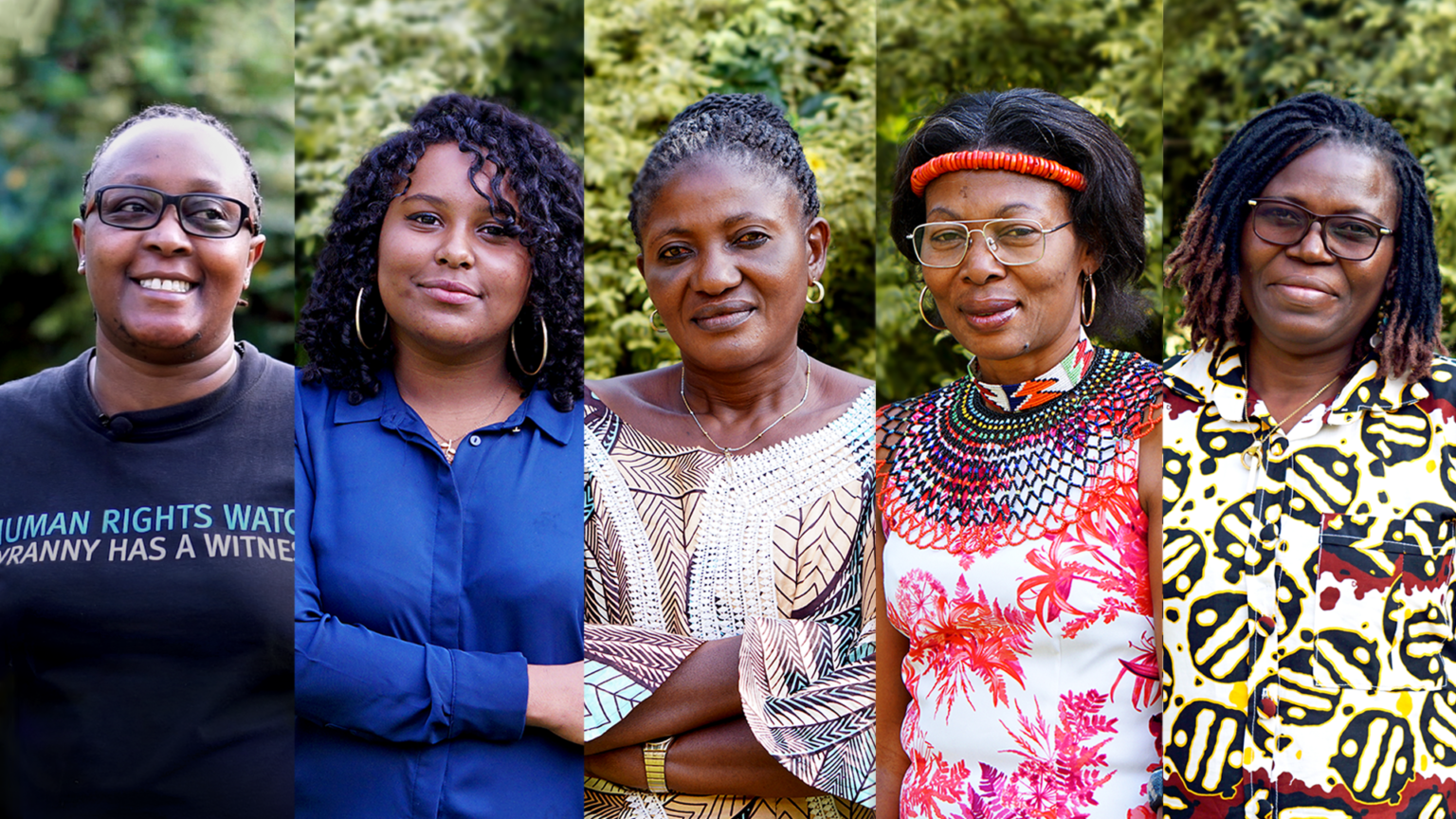 We supported Cameroonian CSOs through an informal network called Cameroon Advocacy Group to organise meetings and address the need for an urgent investigation into gross and grave human rights violations in Cameroon;
In line with our aim to strengthen HRDs coalitions across the continent, we are currently preparing to conduct needs assessments for coalitions in Mozambique, Burkina Faso and Malawi. This will help us to determine how to best support them;
AfricanDefenders participated in a webinar hosted by the African Union Economic, Social and Cultural Council in conjunction with the Africa Development Bank. The webinar focused on gender implications of Africa's COVID-19 response and highlighted gender-related gaps, risks and threats observed in the ongoing response measures;
We were a part of an online meeting organised by the International Forum for Democratic Studies and National Endowment for Democracy on "Deepening Repression Amidst the COVID-19 Crisis: Implications for Democrats at Risk". We provided input on the impact of COVID-19 on human rights defenders in Africa, as well as our work to support them;
We joined a meeting hosted by Open Society Foundations analysing the impact of COVID-19 responses on Refugees in East Africa with the aim to coordinate policy and advocacy actions. Participants shared reports of the current situation of refugees and asylum seekers in camps and urban refugees in different East African countries, amidst the pandemic. It clearly emerged that is essential for Governments to address the needs of the refugee population in their responses to curb the spread of the virus; and
AfricanDefenders engaged the African Commission on Human and People's Rights to coordinate on effective working methods that will allow continued engagements between the Commission and HRDs amidst the COVID-19 pandemic.
From the Network
North Africa:
The Cairo Institute for Human Rights (CIHRS) and other CSOs released a statement urging the government of Egypt to release detainees from overcrowded prisons in light of the COVID-19 outbreak;and
CIHRS also published a statement urging the Libyan authorities to release detainees including prisoners of conscience after Libya reported its first COVID-19 related death.
West Africa:
East and Horn of Africa:
Meet DefendDefender's human rights defender of the month for March 2020: Kadar Abdi Ibrahim;
DefendDefenders expressed concern over a statement released by Somalia's National Intelligence and Security Agency (NISA). In the statement, NISA accused the renowned journalist, author, and Al-Shabaab expert Harun Maruf of being "a threat" to national security and contemplated legal action against him; and
The civil society's Police Reforms Working Group issued a statement condemning the use of excessive force by the Kenyan police forces to enforce COVID-19 lockdown measures. The statement also condemns ongoing attacks on journalists in Kenya. The working group comprises of twenty national human rights organisations including the Kenyan Human Rights Defenders Coalition
Central Africa:
The Human Rights Defenders Network in Central Africa (REDHAC) issued a statement congratulating civil society organisations for their hard work after the Government of Cameroon acknowledged that the military was involved in the massacre that took place in Ngarubh. This came after years of denial and accusations against CSOs, portrayed as working for and funded by enemies of the Cameroonian government.

Southern Africa:
The South African Human Rights Defenders Network (SAHRDN) published a statementdemanding the immediate release of Malawian human rights defenders Gift Trapence and Mcdonald Sembereka, and calling on the authorities in Malawi to guarantee safety and security of human rights defenders in the country;
SAHRDN also called on authorities in Zambia to stop persecuting human rights defenders and demanded the immediate reinstatement of SC John Sangwa, a prominent lawyer arbitrarily barred from appearing in any court of law in Zambia;

SAHRDN partnered with Maverick Citizen to launch a South Africa weekly human rights roundup aimed at highlighting important human rights news in Southern Africa. The round up integrates efforts of human rights defenders and facilitates evidence-based engagement with key stakeholders, and institutions on the human rights situation across the region.
Do not miss
DefendDefenders has developed a guide on how human rights defenders can be safe, secure and take care of their wellbeing during COVID-19
Recommended reading
Read the Ivorian Coalition of Human Rights Defenders March newsletter – only available in French
For more information, please contact / Pour plus d'informations veuillez contacter:
Hassan Shire, Chairperson/President AfricanDefenders: [email protected]
Joseph Bikanda, Coordinator/Coordinateur AfricanDefenders: [email protected]