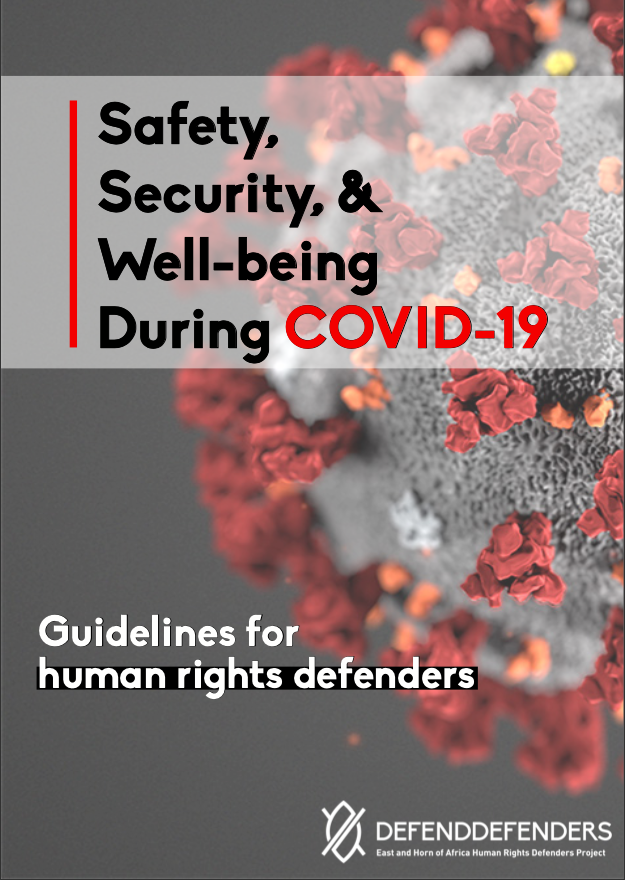 23 April, 2020


Safety, Security, & Well-being During COVID-19
SAFETY & SECURITY FOR HUMAN RIGHTS DEFENDERS DURING COVID-19.
The coronavirus pandemic has become a global crisis, forcing most states to close their borders and limit in-country movement to curb the spread of the virus. This has led to organisations closing offices and working remotely from their homes.
DefendDefenders' security guide and recommendations are set out to ensure well-being for human rights defenders (HRDs). Ensure that the access to your home is controlled where possible and keep abreast of the security situation and trends in your country, district, or village, and take precautions.
Hosting physical and online meetings
If you are hosting a physical work meeting, make sure to follow guidelines in place. Make sure you sit in an aerated space at least one meter apart.
To meet online you should use encrypted audio/video conferencing tools like:
• BlueJeans
• Mumble
• GoogleDuo
• Wire
• Facetime
• Skype
• Signal
• WhatsApp
WhatsApp, Signal, Telegram are encrypted for secure chats. For instant messaging, use Skype, GoToMeeting, or any other application that can allow online meetings.
Unfortunately, during these trying times, some are using this as an opportunity to infect devices through (phishing) emails and other messaging platforms (e.g SMS, WhatsApp, etc). To improve your awareness of how to identify phishing emails, you can follow the Google quiz link (https://phishingquiz.with- google.com/).
To be sure your device is properly secured, ask yourself the following questions:
At times like these, you may forget to do the basic things on your device, ask yourself these questions:
Do you have an anti-virus installed? Is the anti-virus updated? Do you have a VPN installed? Is it automatically run- ning? Is your operating system updated? Do you have your information backed up? Is your computer/mobile encrypted? Do you have a password on your device? Does your device have an automatic screen lock/timeout if left idle?
WELL-BEING & RESILIENCE FOR HUMAN RIGHTS DEFENDERS DURING COVID-19.
The spread of the coronavirus, and subsequent lockdown, has brought about a lot of fear, anxiety, and uncertainty. Normal life for most people has been interrupted, which might result in high levels of stress and other mental health concerns.
HRDs are not spared, especially as we continue to witness and hear about human rights violations in the enforcement of health directives and guidelines in various countries. It is very possible to be overtaken by negative emotions and health complications.
Coping strategies like going to work, socializing, sports, or other recreational activities might not be possible right now. Therefore, pre-existing conditions, such as hypertension or depression, can easily intensify.