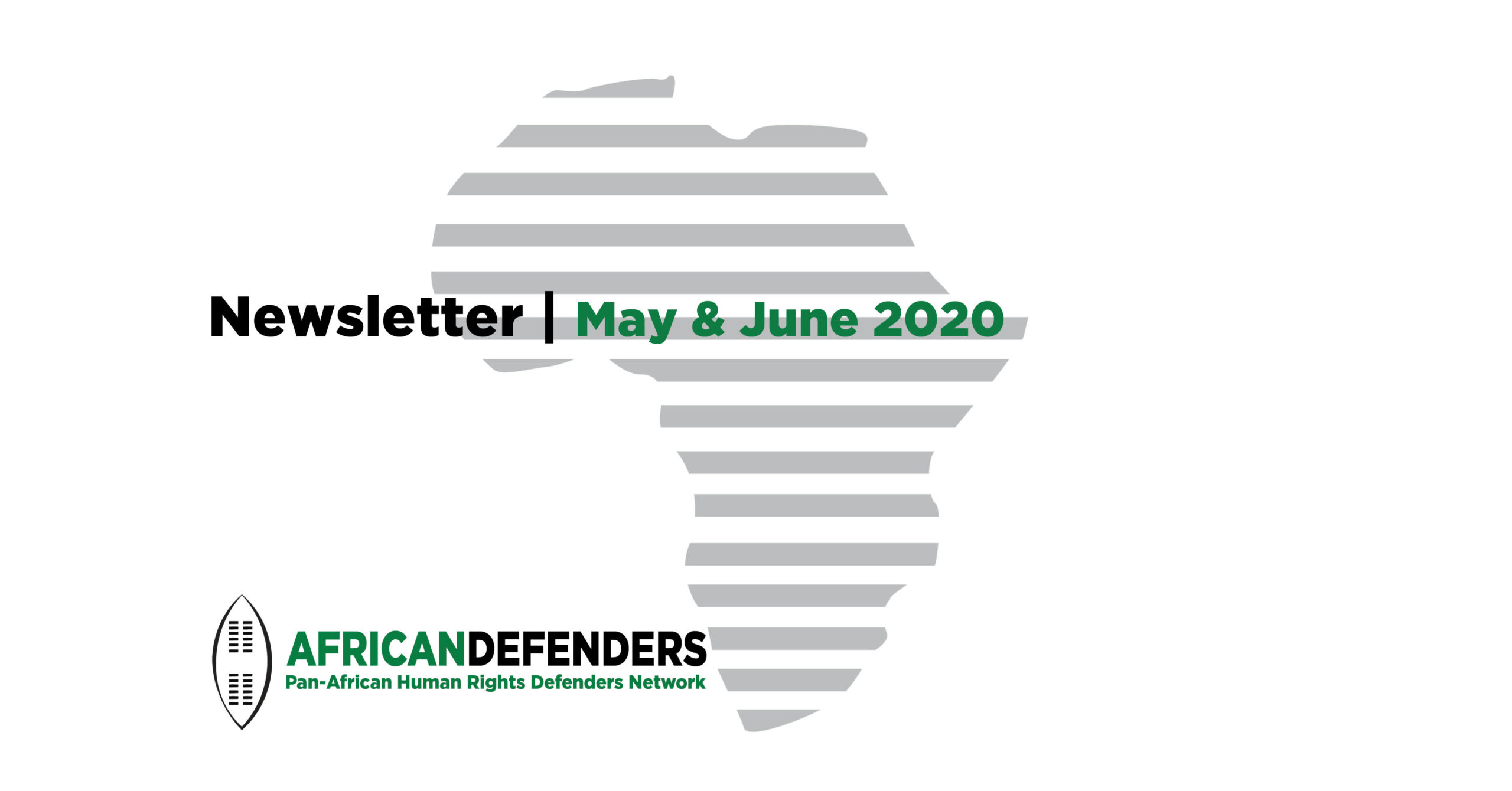 15 July, 2020


NEWS FROM AfricanDefenders | May & June 2020
Highlights
"Exile Shall Not Silence Us" – A podcast series on African human rights defenders in exile
AfricanDefenders launched on World Refugee Day 2020, a podcast series entitled "Exile Shall Not Silence Us." Based on the collected testimonies of over 120 exiled human rights defenders (HRDs), in-depth case studies and featuring interviews with four exiled HRDs, the podcast series highlights the professional, security, socio-economic, and psychosocial challenges of HRDs in exile in Africa, but most of all their achievements and resilience strategies.
More from the Secretariat
DefendDefenders and AfricanDefenders co-hosted a webinar series on the impact of COVID-19 on African HRDs. Each webinar had more than 100 participants from across the African continent with French and Arabic translation available.
Discover more about the webinars here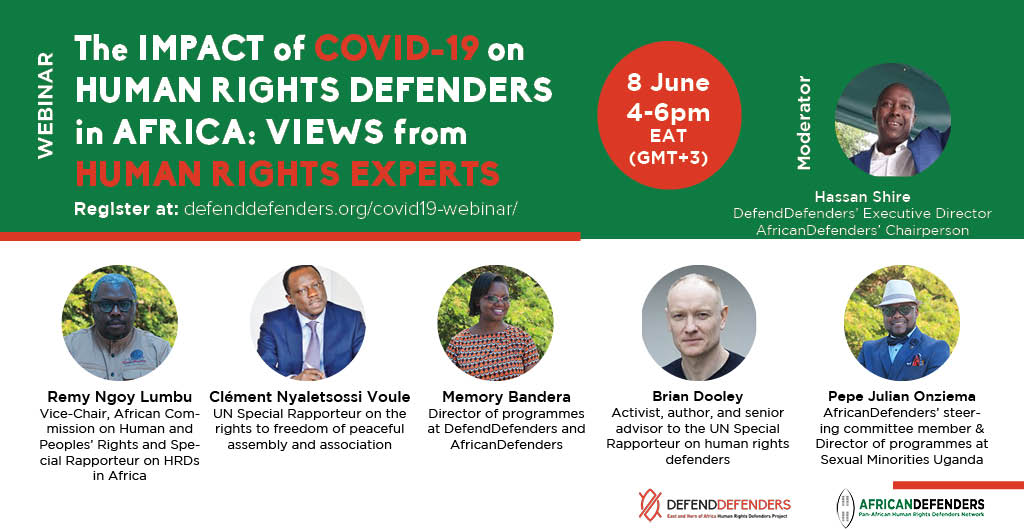 AfricanDefenders, in collaboration with other organisations, submitted an urgent appeal to African Commission on Human and Peoples Rights (ACHPR) for the release of a Nigerian artist who had been arrested after he released a song expressing his frustrations with corruption issues;
Since May 2020, we received 10 requests of support under the Ubuntu Hub Cities.So far, we have approved 6 applications , 3 are under consideration and 1 was withdrawn; and
Between May and June, we took part in several webinars to exchange best practices with different stakeholders especially in the context of COVID-19 such as:

"Silencing the Guns" virtual conference hosted by African Union in commemoration of Africa Day on 25 May; and
"Women HRDs addressing SGBV during COVID-19 in East and Southern Africa" organised by the UN Office of the High Commissioner for Human Rights – Regional Office for East and Southern Africa.
From the Network
 North Africa:
Together with 64 other non-governmental organisations the Cairo institute for Human Rights Studies (CIHRS) penned an open letter to the Egyptian Ministry of Justice calling for investigations into the death of Shady Habash, a filmmaker who died in pre-trial custody in May 2020. The letter also calls for the release of artists and writers who are being held in pre-trial detention in relation to their work;
On 1 May 2020, CIHRS made a submission on reprisals against individuals cooperating with the human rights mechanisms of the United Nations to the office of the Secretary-General. This submission focuses on intimidation and reprisals facing human rights defenders including from Egypt and Libya; and
Did you know over 400 editions of CIHRS' specialised human rights publications are available online?
Explore the Library
West Africa:
The West African Human Rights Defenders Network (WAHRDN) signed on to a statement calling on the authorities in Togo to protect HRDs. This was after the arrest of three HRDs and a journalist who were planning to observe the intervention of law enforcement at the home of political opponent Agbéyomé Kodjo in Lomé; and
WAHRDN also released a statement denouncing the extra-judicial killings of the Fulani people in Burkina Faso.
East and Horn of Africa:
Defenders Coalition released a statement calling for a criminal investigation into the arrest of Jim Nyamwaka Nyakundi, an artist and activist, who was arrested after releasing a song, I am Offended, that was critical of a governor in Kenya; and
At DefendDefenders, June was the month of mental wellbeing for HRDs. DefendDefenders focused on highlighting the organisation's work regarding well-being and sharing the knowledge, skills, and experiences of HRDs.Discover the content shared here
Southern Africa:
 The Southern African Human Rights Defenders Network (SAHRDN) released a statement of solidarity for an Eswatini sexual and gender minorities advocacy group, Eswatini Sexual and Gender Minorities (ESGM), over the right to organise after the Eswatini's Registrar of Companies refused to register it as a legal entity; and
Following an increase in cases of journalists being arrested in Zimbabwe, SAHRDN released a statement calling for the immediate and unconditional release of detained journalists in Zimbabwe.
Do not miss
DefendDefenders has published a resource paper with information on the Human Rights Council (HRC), the ways in which it can help HRDs and strengthen their work at the national level, and how to engage with stakeholders and contribute to the work of the HRC.
Read the paper here
SAHRDN partnered with Maverick Citizen to launch a weekly human rights roundup aimed at highlighting important human rights news in Southern Africa.
Visit their website to read the published issues
Recommended reading
 Reports by DefendDefenders
CIHRS' Human Rights Briefing on Libya from January to May 2020
Read the brief
For more information, please contact
Hassan Shire, Chairperson/President AfricanDefenders: [email protected]
Joseph Bikanda, Coordinator/Coordinateur AfricanDefenders: [email protected]