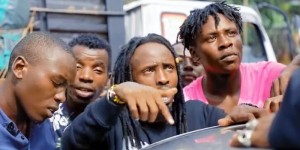 11 May, 2020


DEFENDER COALITION CONDEMNS UNWARRANTED INTIMIDATION OF ARTIVISTS WORKING ON ISSUES OF GOVERNANCE AND SOCIAL ACCOUNTABILITY

This statement was first published by Defenders Coalition

Defender Coalition condemns unwarranted intimidation of artivists working on issues of governance and social accountability

Defenders Coalition strongly condemn the increased threats to human rights defenders – artivists- working on issues of governance, transparency and social accountability in Kenya with the most recent incident being the intimidation of rapper Jim Nyamwaka Nyakundi alias Smallz Lethal, a Kisii-based artist and activist.

In the incident, Smallz Lethal was arrested and taken into custody by both plain-clothed and uniformed police officers on 27th April 2020 for releasing a viral rap video dubbed I am offended.

Just like any other Kenyan, Smallz Lethal is entitled to enjoy his constitutionally-endowed right to freedom of speech and expression to express community grievances to duty bearers and seek to hold them to account for their conduct and performance in terms of delivering services, improving people's welfare and protecting people's rights.

Defenders Coalition condemns the use of the Kenya Police Service Officers by duty bearers and other non-state agencies as a tool for instilling fear, mayhem, panic, detaining, charging on tramped up charges, harassing and intimidating human rights defenders.

In a similar incident on 15th December 2019, rapper Kennedy Ombima alias King Kaka was intimidated by a duty bearer after releasing a song dubbed Wajinga Nyinyi, in which the said duty bearer was promiscuously mentioned for taking part in one of Kenya's biggest corruption scandals during her tenure as the helm of one of the government's powerful ministries. Defenders Coalition calls on the:
National Police Service and the Office of the Director of Criminal Investigations to investigate the arrest of Jim Nyamwaka Nyakundi and drop tramped up charges brought against Human Rights Defender.
Office of the Director of Criminal Investigations to investigate and bring to book duty bearers abusing their offices by misusing state bodies to settle personal misdeeds, misfortunes and failures.