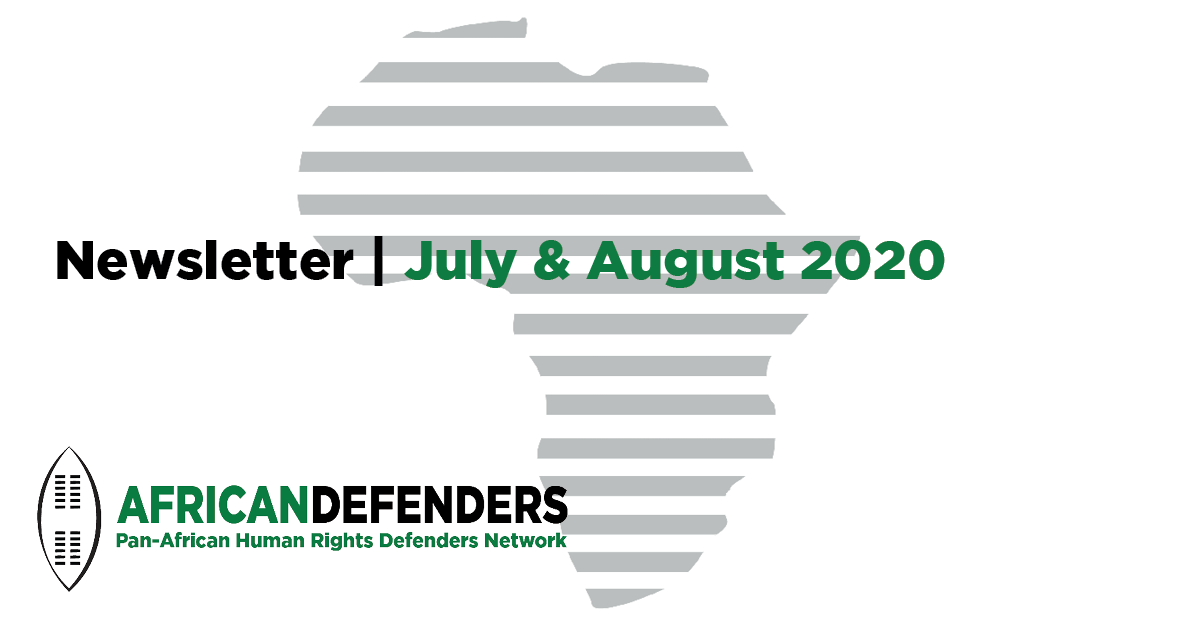 17 September, 2020


News from AfricanDefenders | July & August 2020

Notre newsletter est maintenant aussi en français! 
Consultez la version française ci-dessous.
Highlights
Strengthening Collaboration between Universities and Civil Society in Africa
Academic institutions play a crucial role in fostering peaceful activism, which is especially crucial as civic space is shrinking across the globe and human rights defenders (HRDs) continue to face threats and repression. In this context, AfricanDefenders hosted a webinar on strengthening collaboration between universities and civil society in Africa. The webinar brought together academic institutions, civil society organisations (CSOs), and HRDs from within and outside Africa to explore opportunities for collaboration and exchange best practices. This was the first step towards developing concrete plans for collaboration and creating a platform for continuous exchanges.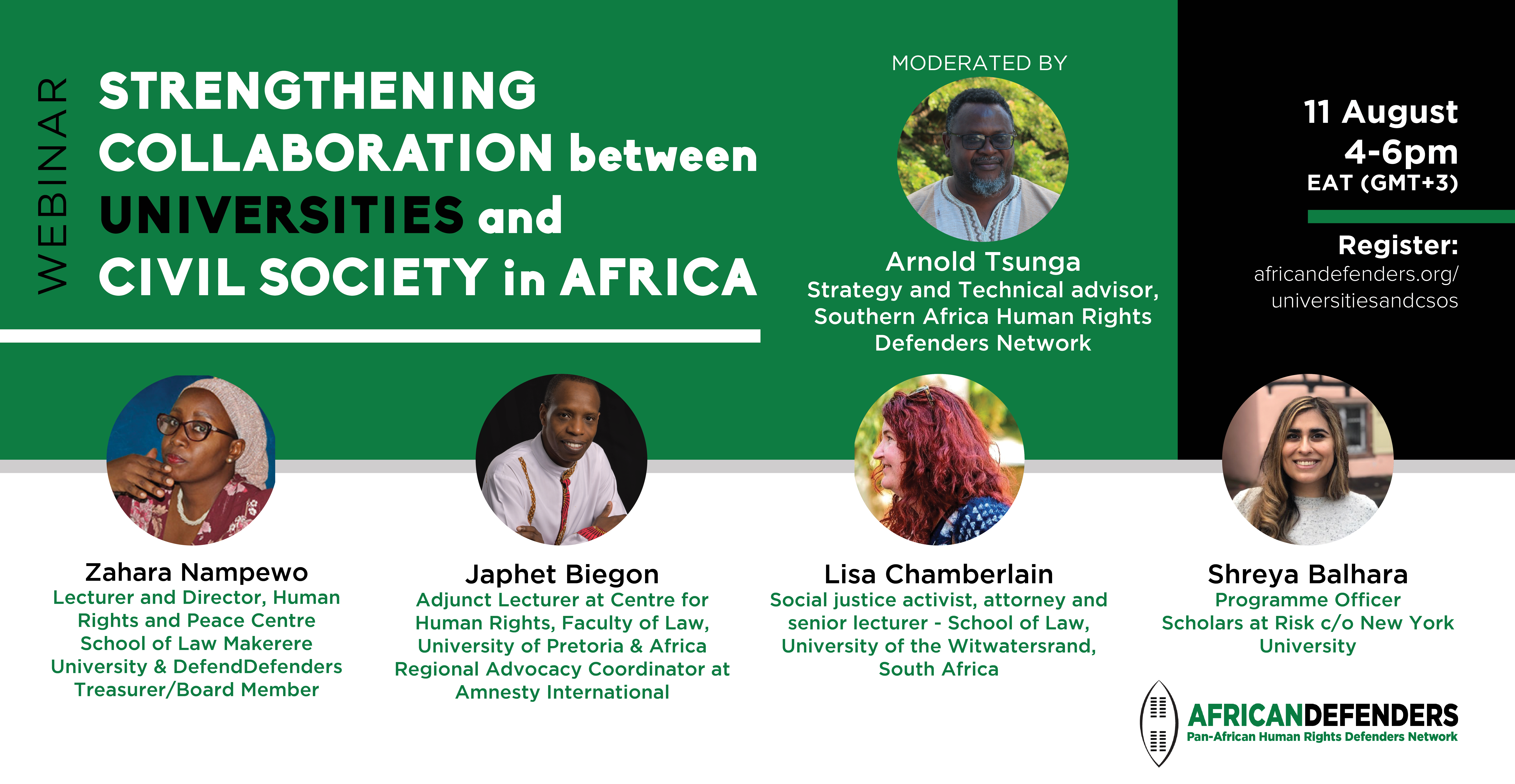 More from the Secretariat
Hassan Shire, the chairperson of AfricanDefenders and Executive Director of DefendDefenders, joined the Chairperson of the African Commission on Human and Peoples'Rights in delivering an opening statement at the Forum on the Participation of NGOs in the 66th Ordinary Session of the African Commission on Human and Peoples' Rights (ACHPR66), calling on Member States of the African Union to build the Union, which is people-centered and based on genuine commitment, and political goodwill in order to achieve a peaceful continent, an equal and just society in Africa;
AfricanDefenders also made the following oral submissions at the ACHPR66:
Hassan Shire, called on the Guinean government to respect the judicial process in the country and release the activist , Saikou Yaya Diallo. Mr. Diallo has been illegally detained for over two months despite two court-issued release orders;
AfricanDefenders, DefendDefenders and more than 40 partners released a statement urging States to support the renewal of the mandate of the Commission of Inquiry on Burundi ahead of the UN Human Rights Council's 45th session;
AfricanDefenders joined the voice of over 40 civil society organisations and human rights and legal experts in calling on the Zimbabwean authorities to respect, Beatrice Mtetwa's , a human rights lawyer, freedom of expression and the right to practice her profession, after Zimbabwean Magistrates' Court decision to disqualify her from continuing as defence legal counsel for journalist Hopewell Chin'ono who is being tried for " inciting public violence" after exposing a corruption scandal. The statement was featured in local online news publications Today News Africa and Pindula News;
AfricanDefenders and other civil society organisations released a statement calling for the release of Nigerian Singer Yahaya Sharif Aminu who was convicted and sentenced to death for allegedly insulting the Prophet Muhammad in a song he published. The statement was highlighted by online publications PUNCH and PMNews
Together with our partners, AfricanDefenders released a statement of solidarity with the Tanzania Human Rights Defenders Coalition, calling on the Tanzanian government to respect the organisation's freedom of association and to unfreeze their bank accounts to enable them to continue with their legitimate human rights work;
Did you know all the episodes of our podcast series "Exile Shall Not Silence Us", on African human rights defenders in exile are out?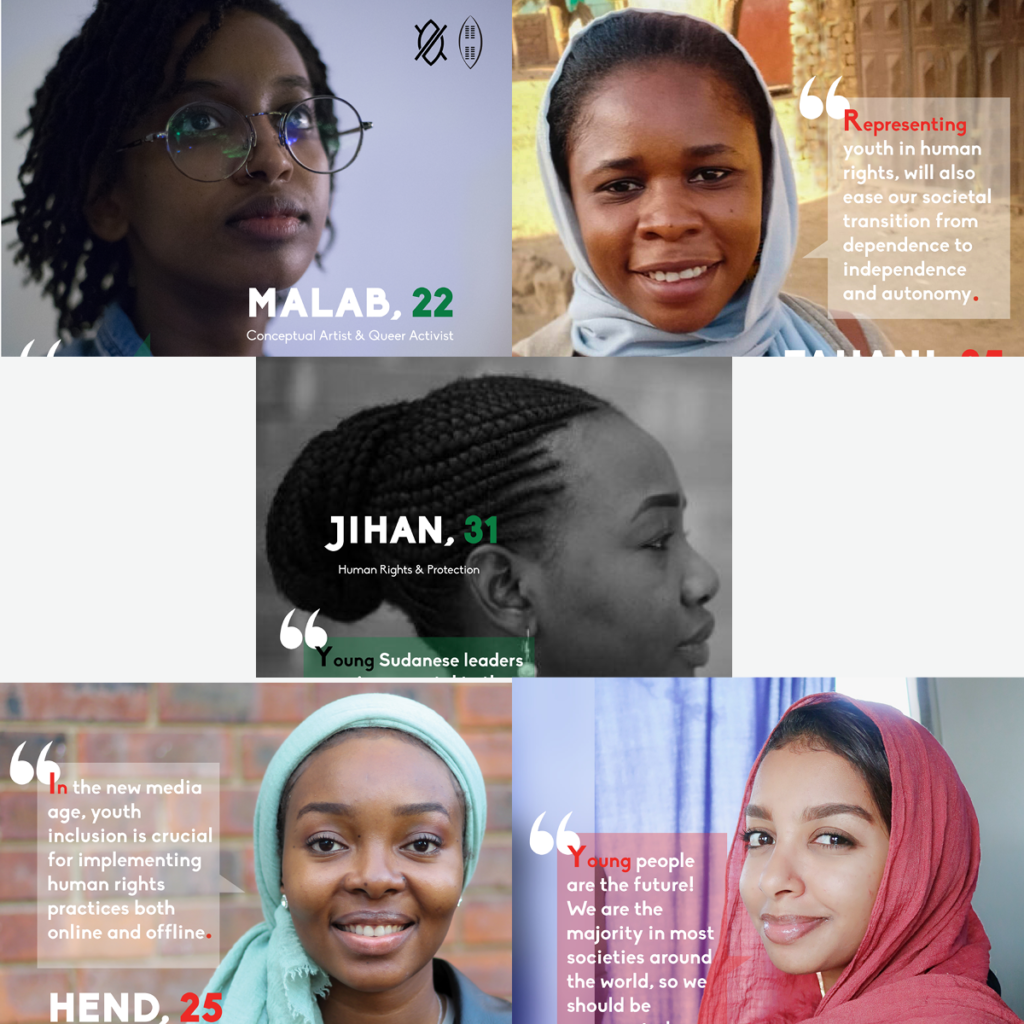 On international youth day 2020, AfricanDefenders and Defend Defenders highlighted the work of five young outstanding Sudanese activists who shared their views on youth representation in human rights activism
Read what they have to say!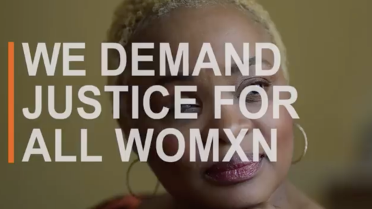 On Pan-African Women's Day, AfricanDefenders and DefendDefenders in collaboration with Kuhluka Movement celebrated the essential work done by courageous women human right defenders (WHRDs) across the continent,who usually facing more risk of experiencing GBV as a form of reprisal and harassment for promoting human rights often .. We also launched the #Justice4AllWomxn campaign which highlighted the case of Josina Machel, an activist against gender-based violence who became a victim herself;
Between July and August we received 11 applications for support of which two were approved one was referred and eight are still under review;
AfricanDefenders organised a Steering Committee meeting in which the action points and implementation of the Zanzibar Convention, Terms of Reference of the Steering Committee and ground rules for collaborative planning were discussed;


We participated in the following webinar events:

The Relevance of the AU's Silencing the Guns campaign for African civil society organised by the Center for Human Rights – University of Pretoria; and
The 2020 National Endowment for Democracy democracy award event that paid tribute to the people of Sudan and their historic 2019 revolution. The event honored three organizations working tirelessly to strengthen civil society in Sudan.
From the network
North Africa:
The Cairo Institute for Human Rights (CIHRS) released a statement condemning the sentencing of Photojournalist Ismail Al-Zoui from Libya. He was sentenced to 15 years of prison after being arbitrarily detained for 20 months by internal security services in a military prison in Benghazi; and

CIHRS also released a statement condemning the investigation into the editor-in-chief, Nora Younis, of the online publication Al-Manassa. Younis was arrested within the context of the ongoing violations of freedom of the press in Egypt.
East and Horn of Africa:
Southern Africa:
The Southern Africa Human Rights Defenders Network (SARHDN) released a statement condemning the arrest of Journalist, Hopewell Chin'ono and opposition leader Jacob Ngarivhume in Zimbabwe; and
Read SAHRDN's statement of solidarity for the Eswatini Sexual And Gender Minorities Advocacy Group's right to organise. The group filed a case against Eswatini's Registrar of Companies which refused to legally register the Eswatini Sexual and Gender Minorities (ESGM) as a human rights organisation that seeks to advance the protection and promotion of LGBTI persons in the country in 2019.Have your read SAHRDN's and Daily Maverick's weekly southern Africa human rights roundup yet?
Visit their website to read the published issues
Do not miss!
FrontLineDefenders partnered up with artists across the world to create Cypher, a digital comics magazine that advances the organization's storytelling and narrative framing work in collaboration with and in support of HRDs.
The call for applications for the 2021 East Africa Human Rights Program is open. The deadline for applications is 28 September 2020!
Recommended reading
Defenders Coalition's – Kenya report on the status of human rights defenders in Kenya During COVID-19; and
DefendDefenders and CIVICUS joint report on Rwanda's human rights record with a focus on civic space since the country's last Universal Periodic Review (2015).
For more information, please contact / Pour plus d'informations veuillez contacter:
Hassan Shire, Chairperson/President AfricanDefenders: [email protected]
Joseph Bikanda, Coordinator/Coordinateur AfricanDefenders: [email protected]