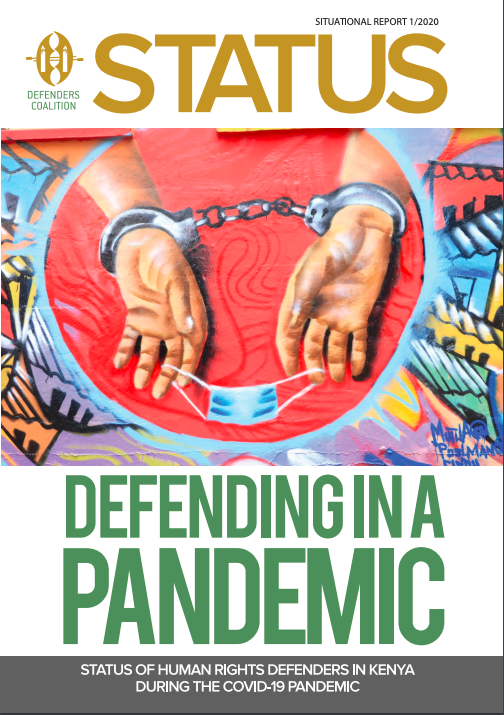 3 August, 2020


Status of human rights defenders in Kenya during the covid-19 Pandemic

BACKGROUND:

Human rights defenders play a critical role in the society in the protection and promotion of human rights which is integral to the success of a nation's growth. Human rights defenders work individually or in collaboration with others towards the realization of a human right (or rights) on behalf of individuals or groups. They also seek the promotion and protection of civil and political rights as well as the economic, social and cultural rights. Human rights defenders are active in every part of the world and Kenya is no exception. The country has a vibrant human rights movement comprising of civil society organizations community groups and individual champions of rights who are concerned that every Kenyan must and should enjoy all rights as codified in international human rights instruments and the Constitution.

Despite their noble work, individuals and groups at the forefront of the protection and promotion of human rights, including journalists are themselves victims of serious infringement of their rights, the very rights they seek to secure. Lack of accountability for serious human rights violations by security forces, including extrajudicial killings and enforced disappearances have continued to plague the human rights movement with human rights defenders facing the most serious threats as they confront the violations. Security forces often target individuals synonymous with demanding accountability. Security agents in
the country often consider HRDs as "enemies" because of raising human rights concerns during enforcement.

The National Coalition of Human Rights Defenders, Kenya (Defenders Coalition), a national organization that works primarily for the protection of HRDs through championing their safety, security and wellbeing undertook a monitoring exercise to look into the situation of human rights in the country but more so, the situation of HRDs during this Covid pandemic.

The monitors were County based and were able to document and report instances of violations not only to HRDs but to the community at large. The documentation forms the basis of this report.

CONTEXT:
2020 begun with the globe battling a new global pandemic- COVID 19. The World Health Organization (WHO) set up an Incident Management Support Team for dealing with the COVID-19 virus and continued to issue comprehensive guidance to countries on how to detect and manage the spread of the Corona virus. Kenya recorded the first case on 13 th March and by 30 th June there were 6,366 individuals that had tested positive with 148 deaths recorded. 1 As an initial response to this, the government of Kenya issued some measures and directives in a bid to contain the situation. These included;

1. Countrywide curfew between 7:00pm and 5:00am which was later revised to 9.00 P.M to 4.00 A.M
2. Lockdown of Nairobi Metropolitan area, Mombasa, Kilifi ,Kwale and Mandera Counties
3. Lockdown of Eastleigh, Nairobi and Old Town in Mombasa which were recording very high number of infections.

The lockdown has since been lifted progressively with Nairobi being the last to be opened up. The government has indicated that they were closely monitoring the spread of the pandemic and that if there is increase, they would revert back to lockdown. Most countries adopted state of emergency 2 measures to prevent the spread of COVID 19. Most governments have taken advantage of this to rule with a decree and suspending certain constitutional rights and freedoms, including freedom of movement and freedom of peaceful assembly. The decrees prohibit public gatherings of certain numbers of people in different countries. In some countries, it also provides that any dissemination of information, including online, that refers to the coronavirus or activities carried out by health authorities, may only refer to information provided by a special emergency office of the government. Suspending the rule law may set an anarchy response to human rights violations by state and non-state actors. If not monitored and contained, it might get out of control during and after the coronavirus crisis.

On its part, the Kenyan state has demonstrated reluctance to engage with the public and Civil Society to collectively address the current crisis and have been intolerant to criticism over its application such us containment of citizens that violate the curfew laws at medical facilities,  even when they are not infected. Such arbitrary actions threaten the rule of law and democracy now and in the future, taking away on the positive gains that have been realized to build a democratic society. This might in the near future cripple the gains made in advancing and safeguarding the Civic Space as states have undertaken strict measures to prevent any gatherings. HRDs can longer enjoy freedom of association, assembly and also demonstration against human rights violations. Civil society needs support to enhance their participation in the governance, agenda setting, decision making and as well voicing concerns over violation human rights and accountability.