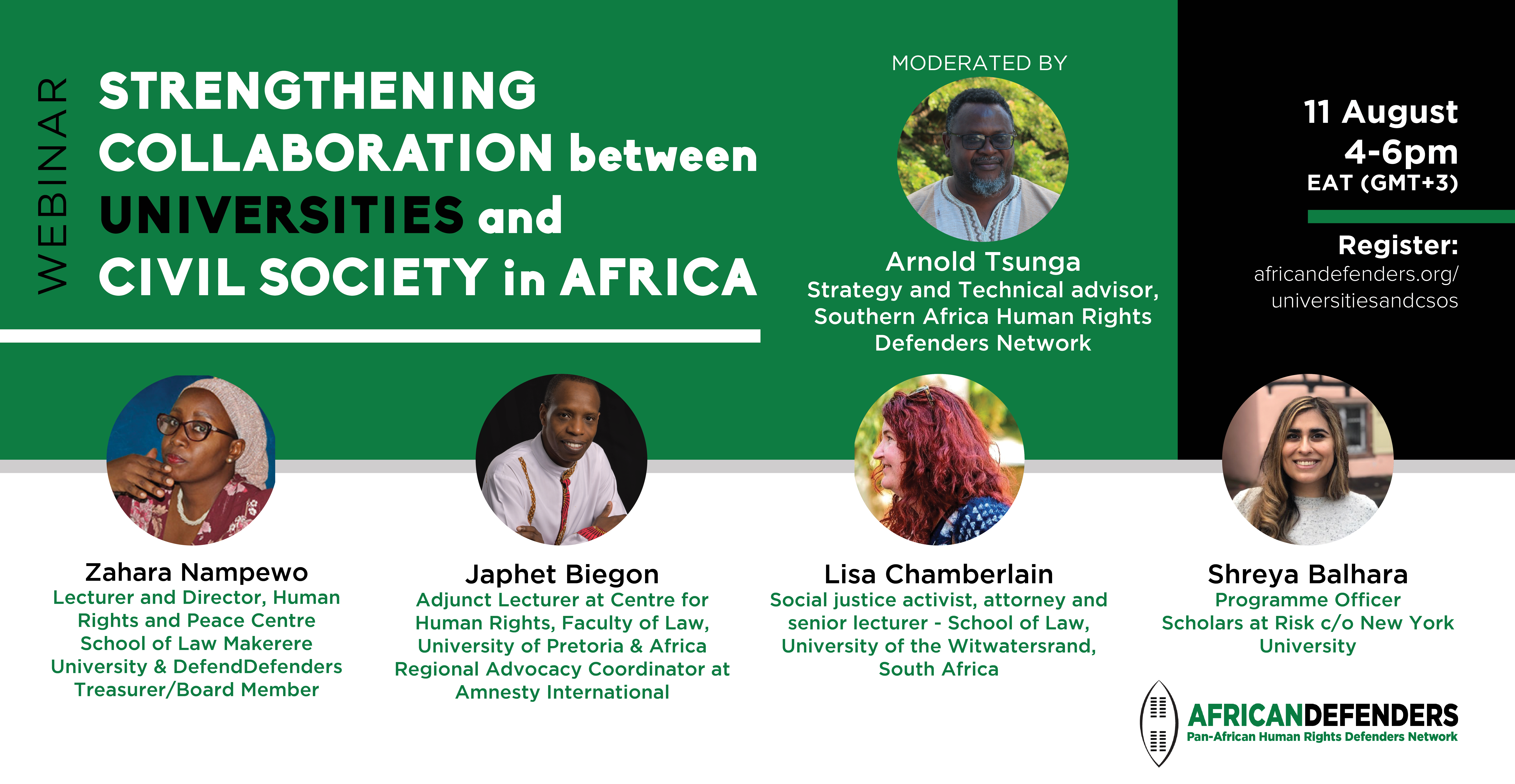 29 July, 2020


Strengthening Collaboration between Universities and Civil Society in Africa

Historically, academic institutions have played a crucial role in fostering peaceful activism, which is especially important as civic space is shrinking across the globe and human rights defenders (HRDs) continue to face threats and repression. Universities can provide HRDs with a neutral space for exchange, where their actions can gain legitimacy and where they can be protected. Universities can also play a key role in advocating for and upholding the principles of human rights through research and teaching.

Collaboration between academic institutions, CSOs and HRDs hold mutual benefits. For example, universities can provide HRDs with a neutral space for exchange, where they can further their work, while academic institutions' collaborating with HRDs can become closer to communities and explore ways for continuous mutual learning.

In this light, AfricanDefenders hosted a webinar on 11 August from 3pm to 5pm East African Time (EAT) which brought together African academic institutions, CSOs, and HRDs to explore opportunities for collaboration and exchange best practices.  This was the first step towards developing concrete plans for collaboration and creating a platform for continuous exchanges. Relevant academic institutions, activists, and CSOs from outside the African continent were also invited to share ideas for increased and impactful university-CSO collaborations to strengthen the position of HRDs and CSOs facing restrictions in their work.

Webinar Objectives 
To share experiences and compile lessons-learnt on CSO-universities collaborations;
To foster mutual understanding and contributions by universities to the protection of HRDs.