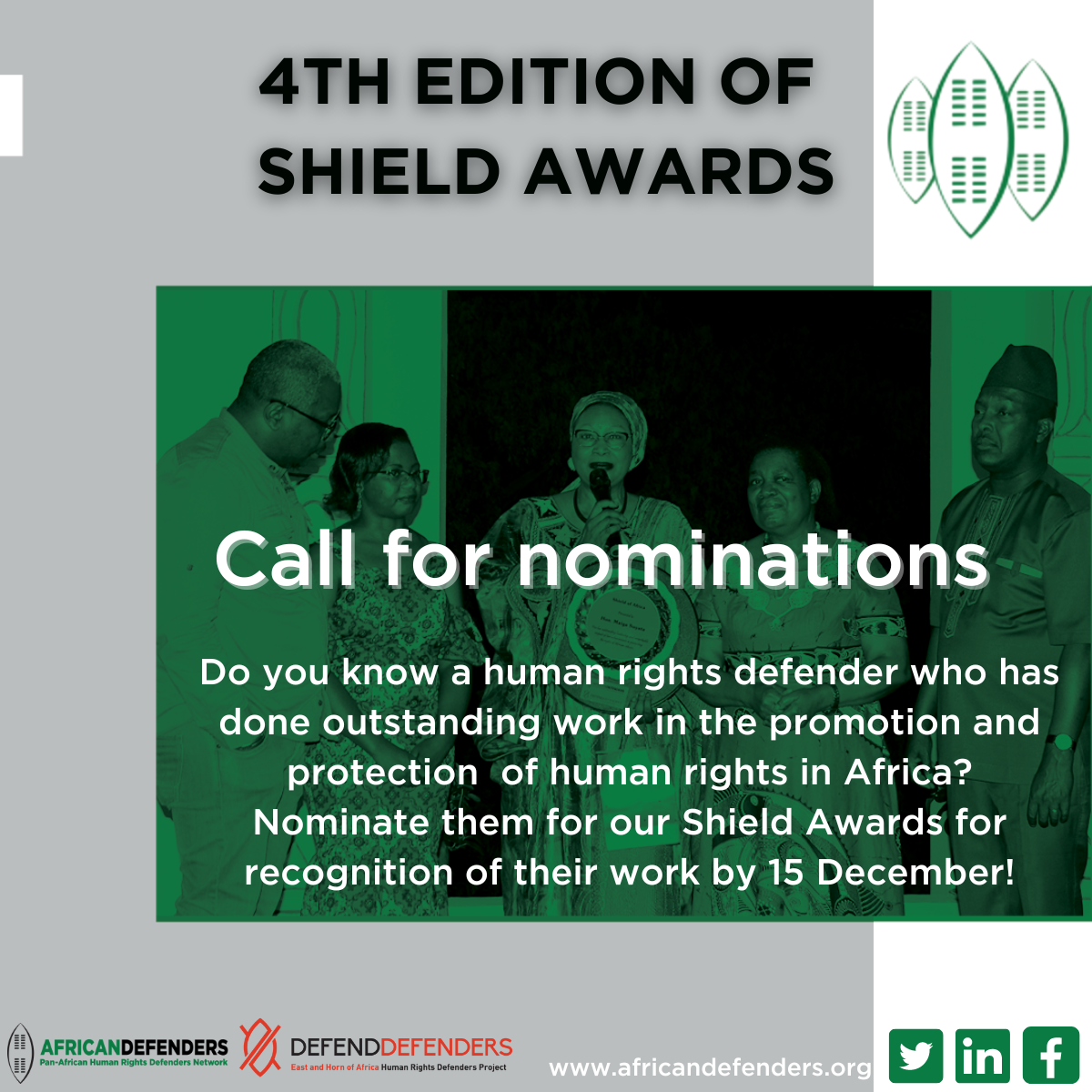 11 November, 2022


4th Edition of Shield Awards
Call for Nominations for the 4th Edition of AfricanDefenders' Shield Awards
AfricanDefenders is pleased to announce the launch of the call for nominations for the 4th Edition of the AfricanDefenders' Shield Awards which aims at honoring HRDs from regions across Africa who have contributed to changes in their communities by peacefully promoting and protecting human rights, as universally recognized by the Universal Declaration of Human Rights and the African Charter on Human and Peoples' Rights.
The Shield Awards, with the intent to inspire others to stand up and defend human rights, is set to shine a light on the positive impact of the outstanding work of HRDs across the continent and their unwavering motivation.
Eligibility criteria
Both individuals and organizations are eligible to participate in the application process, conducting human rights work from all regions across Africa, that is; East and Horn of Africa, West Africa, Southern Africa, Central Africa, and North Africa.
The award(s) shall be a form of recognition and acknowledgment of the outstanding performance of HRDs in their various communities with noticeable traces and impact of their work.
The application process
Visit our website and nominate an HRD by filling in our online form.
Submissions can be made in Arabic, French, English, or Portuguese. Return your nomination to [email protected] Shortlisted candidates will be contacted via email/telephone.
Human rights defenders shall apply for the;
East and Horn of Africa Shield Award

West Africa Shield Award

Southern Africa Shield Award

Central Africa Shield Award

Northern Africa Shield Award
Upon completion of the application process, successful parties shall be contacted and formally recognized as nominees for the respective awards.
General information
3.1 Equal opportunities
AfricanDefenders applies a policy of equal opportunities and accepts applications without discrimination on any grounds. However, persons belonging to marginalized groups such as women, minority communities or persons with disabilities are strongly encouraged to apply.
3.2 Protection of personal data
The applicants are guaranteed absolute confidentiality and security of their personal data