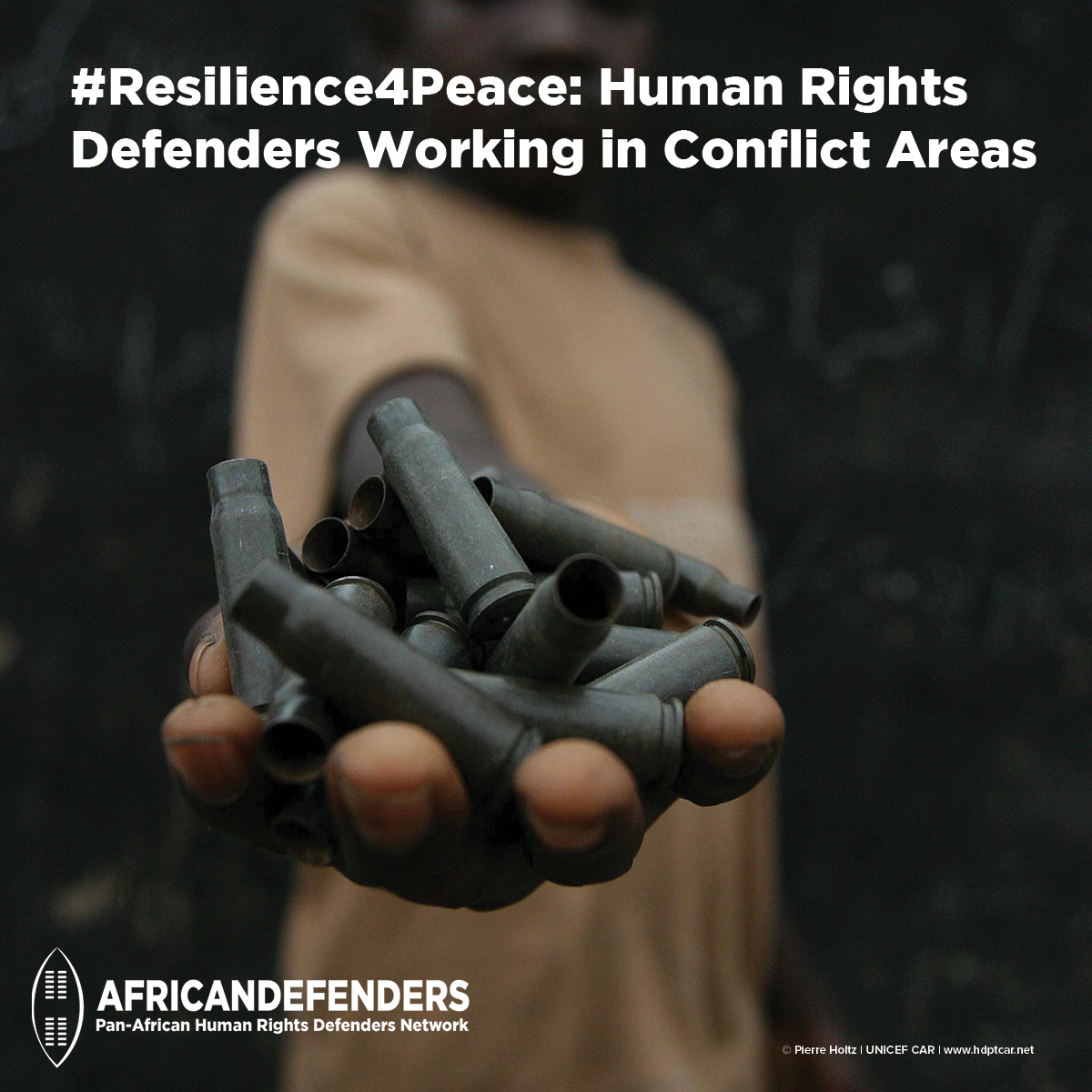 7 June, 2021


#Resilience4Peace: Human Rights Defenders Working in Conflict Areas
---
---
Strengthening the early warning and early response mechanisms of the African Union could prevent violence and armed conflict in Africa. The Slogan of the African Union Peace and Security Council "Silencing the Guns in Africa cannot be materialised without the active participation and contribution of civil society organisations who play a pivotal role in peacebuilding and community support.
Human rights defenders (HRDs) working in conflict areas on the continent have been key in documenting abuses and human rights violations by different parties, yet they are subjected to risks and various forms of repressions. Some of them are at the forefront in documenting and exposing wider violations of international law resulting from the operations of warring parties. Their voices also help bring opportunities for war-torn societies to move towards sustainable peace. Their work is of paramount importance in upholding human rights.
Embed from Getty Images
However, due to the nature of their work, HRDs working in conflict areas face a lot of reprisals from the warring parties because of their neutral stance. These could include, enforced disappearances, abductions, and killings. Often, they are solely responsible for their own protection particularly defenders who live in rural areas.
Women human rights defenders (WHRDs) in conflict areas are in addition subjected to other risks and vulnerabilities such as an increased risk of sexual violence, discrimination, harassment, unavailability of coping mechanisms and much more. Moreover, the risk that WHRDs' face sometimes extends to their families.
As if this was not enough, the defenders face all the general insecurity linked to living in a place affected by conflict. All these risks and reprisals can be psychologically draining and cause many of the defenders to practice self-censorship.
Building on the African Union's 2020 theme of Silencing the Guns: creating conducive conditions for Africa's development, AfricanDefenders is launching an online campaign to highlight the impact of HRDs working in conflict areas awareness of the immense challenges they face.
---
---
The State of Conflict in Africa
The map below shows the different armed conflicts on the continent