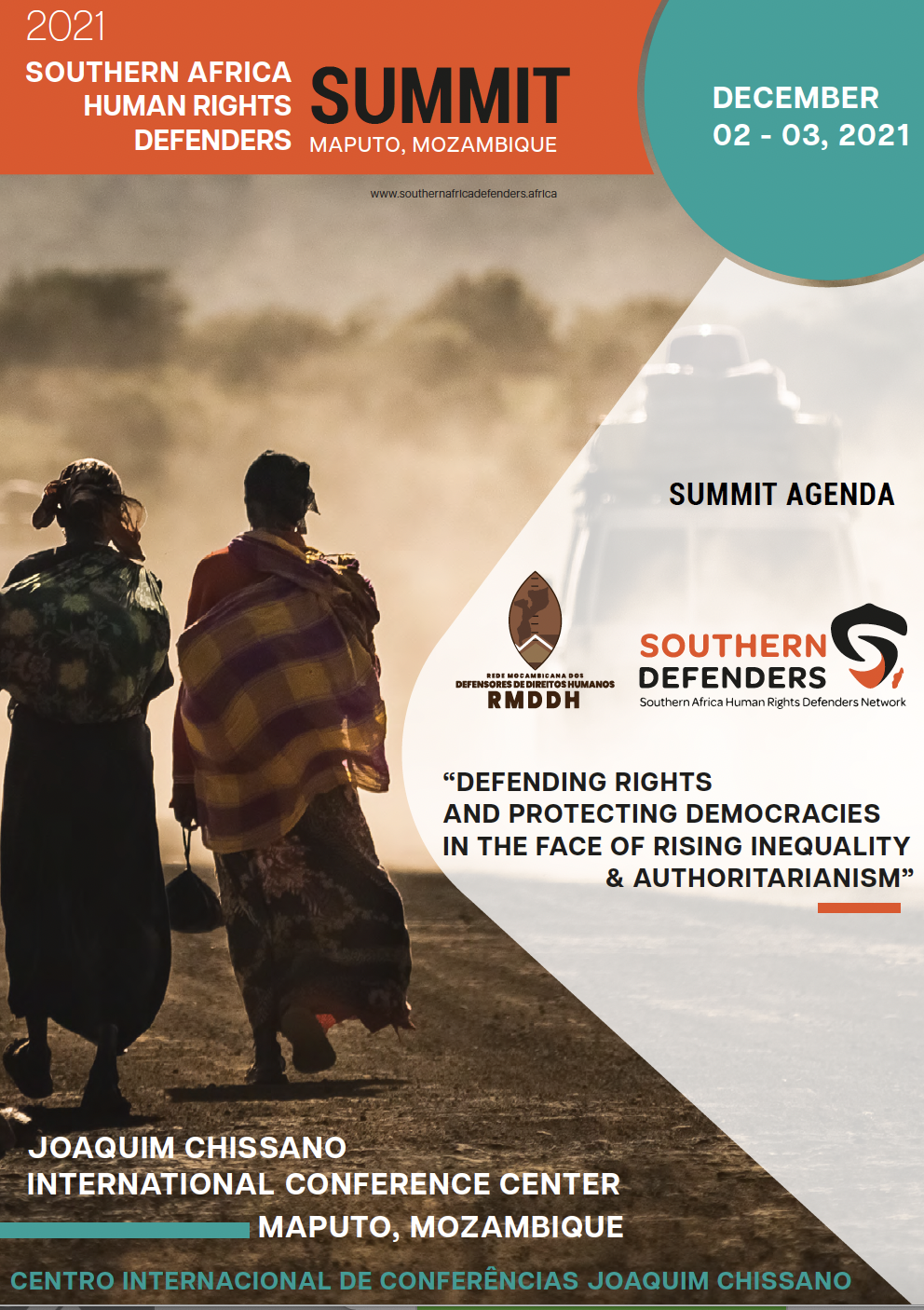 28 February, 2022


REPORT OF THE 2021 SOUTHERN DEFENDERS SUMMIT

In a first for the Southern Africa Human Rights Defenders Network (Southern Defenders), the 2021 Southern Defenders two-day annual summit was hosted in a city outside its headquarters in Johannesburg and was taken to the capital city of Mozambique, Maputo. The Southern Defenders in partnership with the Mozambican Human Rights Defenders Network (RMDDH), Advancing Human Rights In Southern Africa (ARISA), United Nations Office of the High Commissioner for Human Rights Regional Office for Southern Africa (OHCHRROSA) and Amnesty International hosted the 2021 summit.

This was symbolic in the growth and expansion of SouthernDefenders. The 2021 summit was also the first to be held physically since the onset of the COVID-19 pandemic. Virtual facilities for attendance were available, making the summit hybrid.

The summit was held under the theme "Defending Rights and Protecting Democracies in the face of Rising Inequality and Authoritarianism", reflecting the serious reality and unprecedented risks of persecution that HRDs face. The summit brought together human rights defenders (HRDs) and civil society organisations (CSOs) from Southern Africa to take stock of the ground-breaking gains as well as the challenges and risks faced by HRDs in the face of shrinking civic space in the region. Delegates were drawn from across Southern Africa and the summit was graced by dignitaries to include the keynote speaker Her Excellency Graca Machel; Ms Mary Lawlor the UN Special Rapporteur on the Situation of Human Rights Defenders; Mr Clément Voule the UN Special Rapporteur on the Rights to Freedom of Peaceful Assembly and of Association; the Ambassador of the Royal Kingdom of the Netherlands to Mozambique H.E. Henry de Vries; and the Deputy Minister of Information and Communication Technology of the Republic of Namibia Hon. Emma I Theofelus.