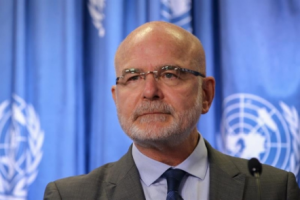 16 June, 2020


Michel Forst: My last report (and other materials) as UN Special Rapporteur

Dear friends,

As you know, I have left the UN mandate on human rights defenders on 1 May 2020. I had to devote the last weeks of my mandate to finalize a number of projects that had been postponed due to the COVID19 crisis. This is now complete and I am pleased to share these latest achievements with you.

First of all, I prepared a final report, more personal than the previous ones, to reflect on these six years spent with the mandate for defenders. As this report is not officially attached to the Office of the High Commissioner for Human Rights, you will only find it on the "unofficial" website of the mandate: www.protecting-defenders.org/sites/protecting-defenders.org/files/V-EN-complet-0526.pdf

Secondly, I developed a series of videos illustrating the essential role played by defenders around the world. One general video presents the work of defenders and three other videos focus on groups of defenders at risk: women defenders, environmental defenders and defenders working in conflict and post-conflict situations. I wanted these animated videos to be as accessible as possible to defenders and the general public, so they are available in 4 languages (French, Arabic, Spanish and English) with the possibility of subtitles in the language of your choice. Please help me disseminate and share these videos!

All these videos are available on our Youtube channel: https://www.youtube.com/channel/UCpidtOxbCtw2xdEXjupPR3w?view_as=subscriber

Finally, I am happy to share with you the fruit of a collaborative work with a dozen NGOs, networks and partners to translate the UN Declaration on Human Rights Defenders into an accessible and user-friendly format. This translation is  now available in more than 50 languages and dialects. Unfortunately, the posters are not yet posted on OHCHR's website which is why I am counting on you to take hold of this tool and bring it to life as close to the field as possible!

The posters, as well as all the communication materials developed over the past years, are available here: : https://app.box.com/s/qbxxks6gcfi97nge9peuf2c1qvfn93pz 

I would like to thank you one last time for these six wonderful years spent at your side. I am sure that we will meet again to address together the many challenges facing the human rights defenders community.

See you soon!