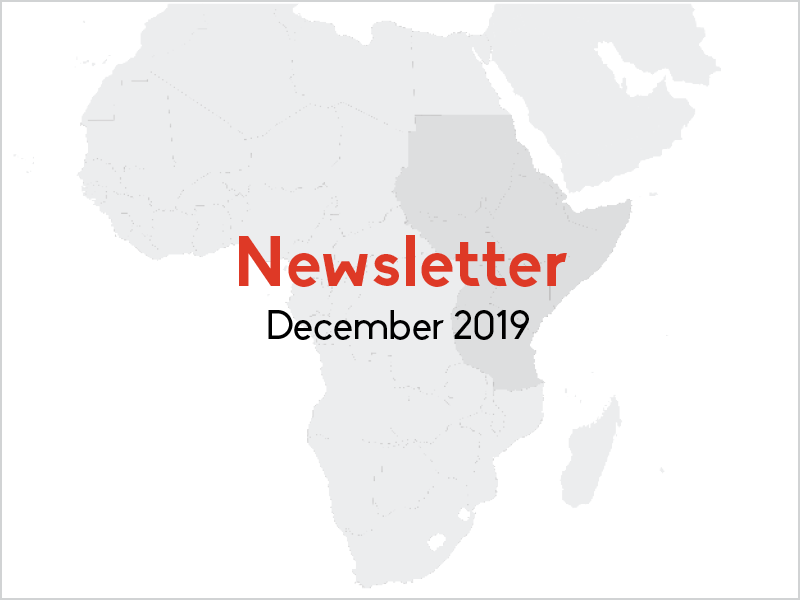 20 January, 2020


Human rights updates from the East and Horn of Africa (December 2019)

This post first appeared on DefendDefender's website

Dear friends and colleagues,

Happy new year! As we leave 2019 behind us, I wish to reflect on our activities and events that had an impact on the situation of human rights defenders (HRDs) in the East and Horn of Africa sub-region in December 2019. December was an eventful month, as we celebrated the International Human Rights Defenders Day, International Human Rights Day, and 16 Days of Activism, and the vital role played by HRDs.

Throughout 2019, Ethiopia was one of DefendDefenders' focus countries, and host of our annual flagship event Claiming Spaces: Tactical Tools for Human Rights Defenders – bringing together vital human rights voices from all over the country. The forum provided a platform for Ethiopian HRDs to meet, network, celebrate their achievements in the last two years, and build their capacity to conduct their work and protect themselves. It was inspiring to discuss human rights issues openly and without fear of reprisals.

On 13 December 2019, together with Ethiopian HRDs and partner organisations, we launched  the Ethiopian Human Rights Defenders Coalition to create a safe and enabling working environment for HRDs in the country, protect HRDs at risk, and actively engage with national, regional, and international human mechanisms.  Our focus for 2020 will be to operationalise the coalition, as we continue to advance human rights and widen civic space in Ethiopia.

Additionally, throughout December we engaged in several progressive initiatives. We released our latest report Navigating Justice: Lawyers as Human Rights Defenders in Ethiopia and Somalia/Somaliland, which highlights the essential role played by lawyers in the Horn of Africa – an often overlooked group of HRDs. Further, we presented our Stand-Up! Security Manual in four Ugandan local languages, which enables HRDs at the local level to access information about their right to protection and available protection mechanisms. With our campaign The Three Women, we joined the world in celebrating the global campaign 16 Days of Activism by conveying stories of women HRDs, and their manifold, intersectional, and complex realities.

While many of us were fortunate to take the opportunity to rest and respite over the holidays, Tanzanian human rights activist Tito Magoti spent his holidays behind bars following his arbitrary arrest and detention. While calling for his immediate release, we reiterate our commitment to continue safeguarding HRDs so that independent voices can continue their crucial work.

I look forward to work with you in 2020 to ensure that human rights are respected and upheld.

Yours in Solidarity,

Hassan Shire

Executive Director, DefendDefenders
Human Rights Defender of the Month (December 2019): Omot Agwa Okwoy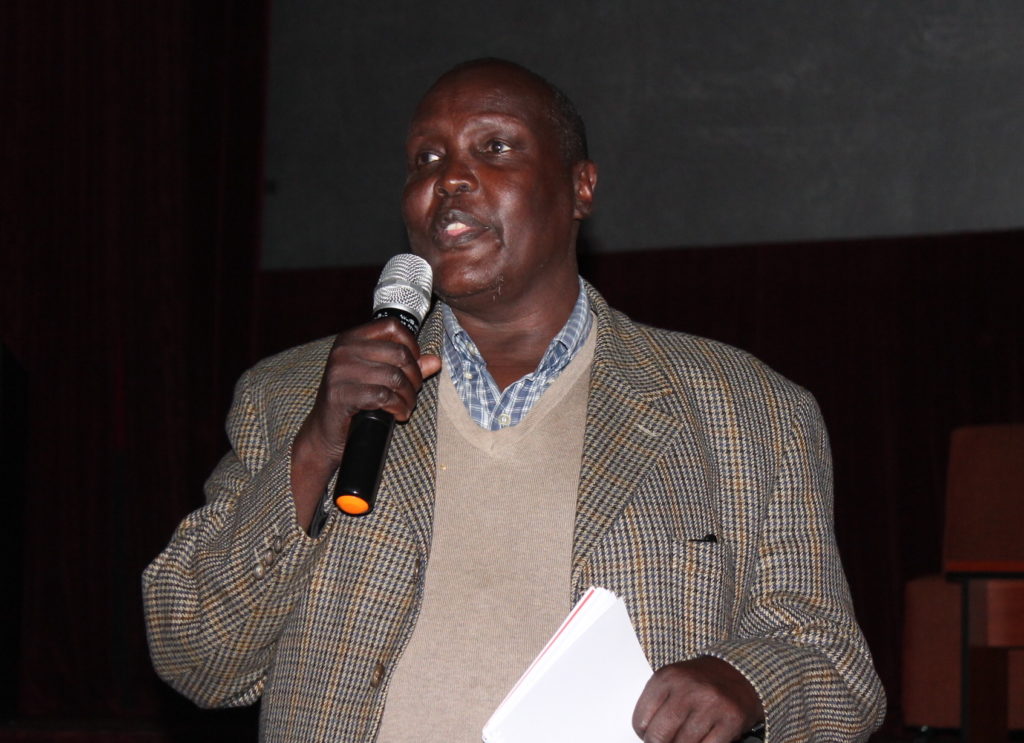 In Ethiopia, land grabbing and villagisation has resulted in severe human rights abuses, however, being vocal about these abuses can be extremely risky. Omot Agwa Okwoy, our human rights defender of the month for December 2019, has fought for land rights and the rights of indigenous people in the Gambella region in Ethiopia for almost 20 years – leaving him with visible and invisible scars. "If you commit yourself to good things, you will make it. But if you don't want to do it, that's fine too, you should not be forced. Human rights work starts as an internal motivation," Omot states.
Omot is a living testimony of the gruesome massacre that took place in the Gambella region in December 2003. The massacre, carried out by Ethiopian National Defense Force (ENDF), killed about 400 Anuak people, destroyed over 1,000 homes, and forced thousands of Anuaks to seek safety in refugee camps in Uganda, South Sudan, and Kenya. For three days, Omot was forced to hide in his house without food, water, and contact with the outside world. "They burned houses, they raped women. The town was filled with gunshots," Omot recalls.
Did you know?
That DefendDefenders launched a three-episode podcast series in December 2019? Check out The Three Women – a campaign about women HRDs and courage.
Check out:
Call for applications: DefendDefenders is hiring a competent, creative, and motivated Communications Officer. Please share a letter of motivation, a CV, and two references, as well as unedited writing sample between 1000-1500 words on the human rights situation in one of our mandate countries, to 

[email protected]

. Deadline: 19 January 2019. See more information.
Updates from DefendDefenders:
DefendDefenders launched the Ethiopian Human Rights Defenders Coalition, with support from the Association of Human Rights in Ethiopia (AHRE), Consortium of Ethiopian Human Rights Organisations (CERO), Ethiopian Human Rights Council (EHRCO), and other partners. Based on the Resolution on the Establishment of the Ethiopian Human Rights Defenders Coalition, the coalition will act as a platform to protect and promote HRDs in Ethiopia. Read more about national HRD coalitions here;
From 9 to 13 December 2019, DefendDefenders organised our annual flagship event Claiming Spaces: Tactical Tools for Human Rights Defenders in Addis Ababa, Ethiopia. The event welcomed about 70 Ethiopian HRDs for a week-long training to equip them with tactical tools to enhance their human rights work and their well-bring. Check out the press release and communique. The 2018 edition of Claiming Spaces took place in Nairobi, Kenya;
DefendDefenders launched our latest report Navigating justice: Lawyers as Human Rights Defenders in Ethiopia and Somalia/Somaliland, which examines the role of  lawyers as HRDs in the Horn of Africa;
On 6 December 2019, DefendDefenders launched the Stand Up! in four Ugandan local languages: Acholi, Ateso, Luganda, and Runyakitara. Stand-Up! is a security manual to support HRDs do their work in a safe and effective manner. The security manual was first launched in May 2017.
Together with AfricanDefenders, DefendDefenders launched the final part of The Three Women, a campaign about women HRDs and courage in relation to 16 Days of Activism;
Together with AfricanDefenders, DefendDefenders held a meeting with PAX and Amnesty International Netherlands to discuss possibilities for future collaboration;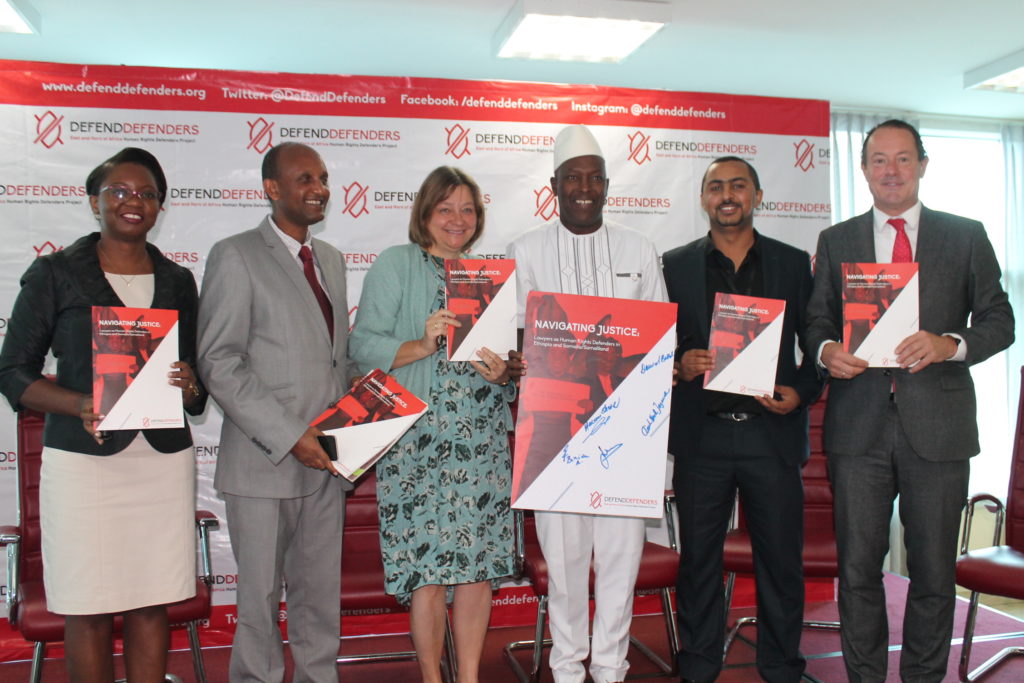 From 9 to 11 December 2019, DefendDefenders participated in a 3-day festival, Feminist Republik, in Naivasha, Kenya, organised by the Urgent Action Fund. Feminist Republik is a space where African feminist activists can freely engage to build the movement further, and focus on research into healing justice from the African feminist perspective, documentation of violations faced by women HRDs on the African continent, and to establish a healing farm which will be a restoration center for women HRDs;
On 12 December 2019, DefendDefenders participated in a round table meeting organised by the World Bank, discussing avenues to ensure engagement and participation under the new environmental and social framework in Uganda;
From 2 to 5 December 2019, DefendDefenders organised a follow-up of the third Safe Sister cycle in Entebbe, Uganda. For the first time, we included a data session to help improve the participants' understanding of their data and documentation practices;
Throughout December 2019, DefendDefenders conducted a series of trainings for HRDs in the sub-region. This included a follow-up training on protection strategies for HRDs, in Arusha, Tanzania, from the 15 to 20 December 2019, and a follow-up training to the digital and physical security conducted in March, was carried out in Arusha, Tanzania, between from 16 to 19 December; and
In December 2019, DefendDefenders received a total of 18 protection requests, of which four cases were approved, three cases were referred to like-minded organisations, four cases were rejected, and seven cases are pending.
Updates from AfricanDefenders:
Together with DefendDefenders, AfricanDefenders attended a human rights seminar on developments regarding civil and political rights hosted by the German Federal Foreign office in Nairobi, Kenya. The seminar aimed to share AfricanDefenders' and DefendDefenders' best practices to ensure that HRD voices continue to be heard; and
AfricanDefenders attended a high-level dialogue organised by the African Union (AU) in Kampala, Uganda, to discuss durable solutions in relation to forced displacement in Africa.
Updates from the East and Horn of Africa sub-region: 
Burundi:
Eritrea:

Ethiopia:

Kenya:

Rwanda:

South Sudan:

Somalia/Somaliland:

Sudan:

Tanzania:

Uganda: