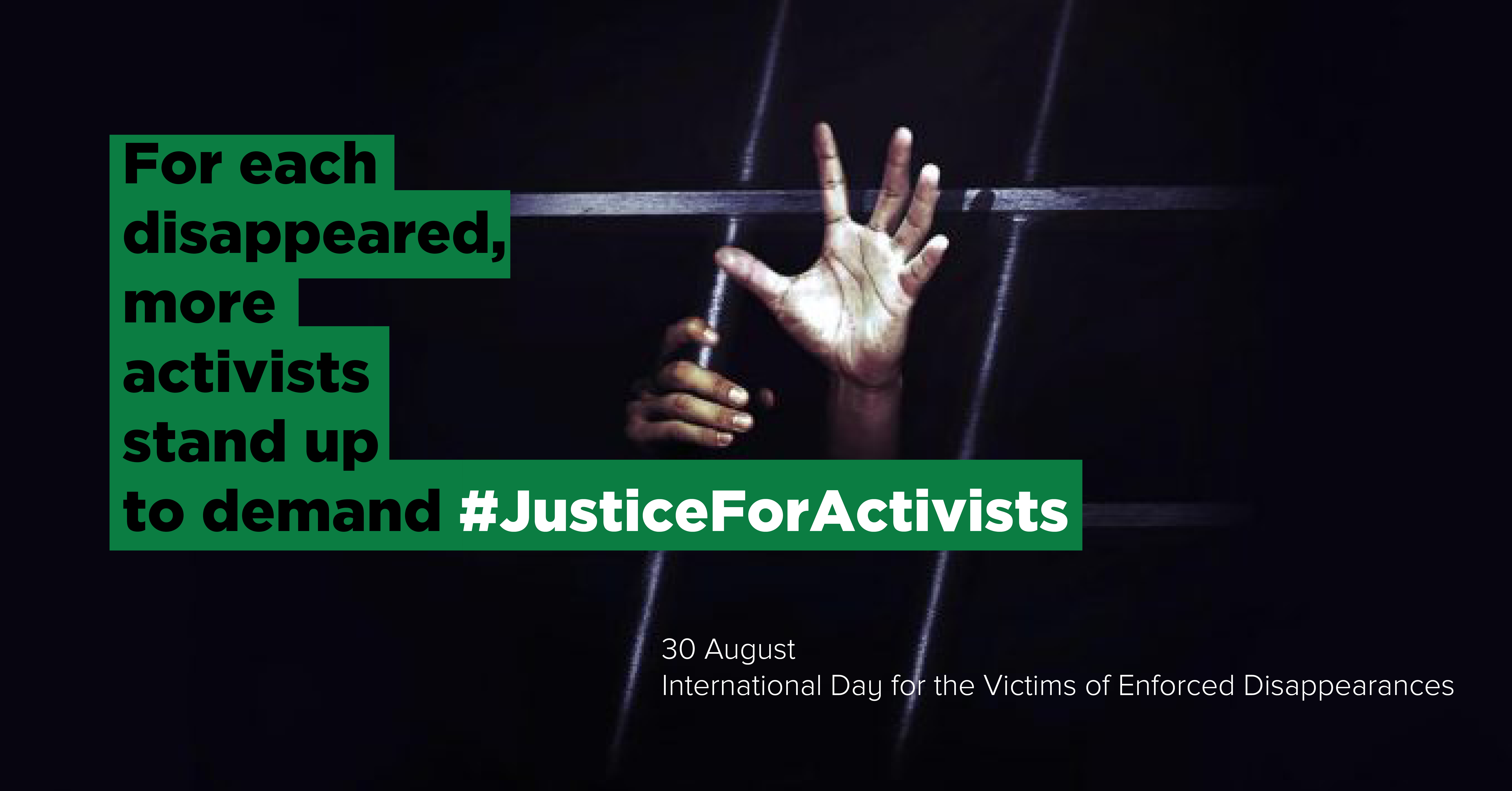 25 septembre, 2019


For each disappeared, more activists stand up! Stop enforced disappearances against human rights defenders

International Day of the Victims of Enforced Disappearances

On 13 April 2015, Sandra Kodouda, a Sudanese human rights defender (HRD), was abducted in Khartoum, Sudan by a group of unidentified men. Three days later she returned home with a dislocated shoulder and clear signs of physical abuse. 

Some months later, on 10 December 2015, Burundian HRD Marie Claudette Kwizera was abducted in Bujumbura, Burundi by individuals believed to be members of the Burundian National Intelligence Service (SNR). Marie is still missing.  

The cases of Sandra and Marie are not unique – it was just one of the few cases of enforced disappearance of African HRDs that made the headlines. Every year, African activists disappear without a trace, and without any media coverage. More importantly, no investigation is carried out, and no accountability is ensured. The alleged perpetrators continue to walk the streets, or, in most cases, rule the country, without any repercussions. Meanwhile, the victims are often tortured and many are killed, or live in constant fear of being killed, and the family and friends of the victim are left in the agony of not knowing the fate of their beloved. 

In international human rights law, an enforced disappearance occurs when a person is abducted or imprisoned by state agents or by a third party with the authorisation, support or acquiescence of the state, followed by a refusal to acknowledge the person's fate and whereabouts, which place the victim outside the protection of the law. When used systematically, it constitutes a crime against humanity according to the International Convention on the Protection of All Persons Against Enforced Disappearances (ICPPED). 

Yet, it is a longstanding, systematic, and widespread tactic, often used by governments to silence HRDs, and as a strategy to spread terror within society. During the 1990s in Algeria, it is estimated that at least 7000 critical voices were abducted by government forces alone during the civil war. In Egypt, the Egyptian Commission for Rights and Freedoms' campaign, "Stop Enforced Disappearances", has documented more than 1000 cases of enforced disappearances of HRDs under Al-Sisi's regime. During the current revolution in Sudan, hundreds of peaceful protests were abducted, disappeared, allegedly by the security forces. The fate and whereabouts of most of the victims remains unknown.

Despite threats and reprisals, the families and the communities of the victim continue to stand up and call for justice. For instance, every year,  Burkinabe students commemorate Dabo Boukary, a student activist who disappeared during student protests in 1990. In Burundi, the impactful campaign "Ndondeza" (where are they?) continues to put pressure on the government and to call for justice. For each person that disappears, more activists stand up.

On 30 August, we commemorate the International Day of the Victims of Enforced Disappearance. We call on states to investigate cases of enforced disappearance and to ensure accountability; to ratify and implement the International Convention for the Protection of all Persons from Enforced Disappearances; and to ensure adequate reparations to the survivors, and their families.

We continue to stand in solidarity with HRDs that have disappeared, been tortured, and/or killed. We continue to demand #JusticeForActivists.