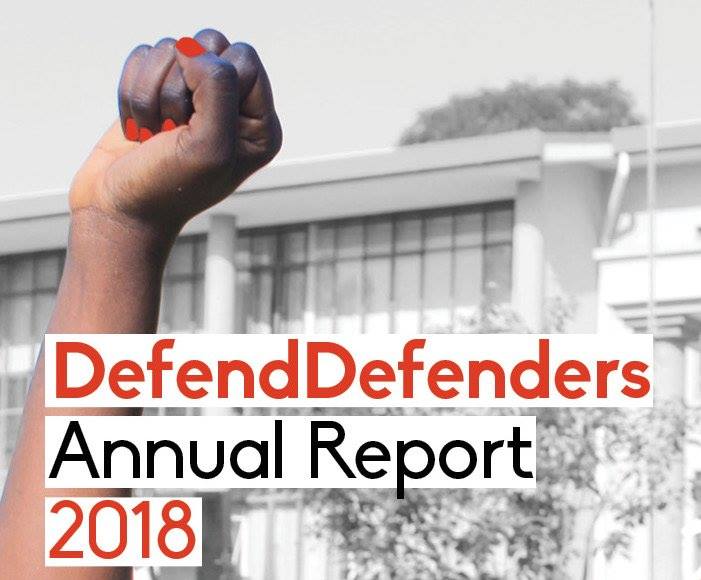 1 July, 2019


Annual Report 2018

This article was first published by DefendDefenders

In 2018, DefendDefenders and its partners continued to monitor and document human rights violations across the East and Horn of Africa sub-region, with a focus on the contexts affecting the work of HRDs. The year was filled with human rights contrasts in the East and Horn of Africa sub-region, and worldwide, as vastly constructive and destructive human rights actions took place in parallel.

The sub-region witnessed a rising trend of shrinking civic space, affecting the respect for human rights and rule of law. This development entailed the enactment and enforcement of restrictive laws on freedom of expression, peaceful assembly, and association, deterioration of judicial independence, increased levels of negative human rights discourse and hate speech, and crackdown on demonstrations – fostered by repressive regimes and autocratic state leaders.

For human rights defenders (HRDs), these developments increased the level of threats, harassment, violence, and arbitrary detention, which affects their physical and mental well-being, as well as their ability to carry out human rights work. The vigorous actions are well documented; globally, at least 321 HRDs were killed in 2018.
In 2018, we especially witnessed these damaging trends in Burundi, Rwanda, Tanzania, and Sudan. The enactment of restrictive laws in Burundi and Rwanda, the political crisis in Sudan, with severe crackdown on peaceful demonstrations, and Tanzania's continued attack on freedom of expression all illustrates the general shrinking civic space.
Simultaneously, the human resistance that unfolds as a repercussion to the human rights violations illustrates the other side of the coin. Although these trends paint a picture of dark times, we cannot overlook the outstanding human rights work carried out by student activists; lesbian, gay, bisexual, transgender, and other sexual minorities (LGBT+) HRDs; women HRDs; political activists; indigenous people; and many more.
In 2018, we saw peaceful anti-government activism in Uganda. We witnessed a strong LGBT+ resilience in Kenya, fighting to repeal colonial-era laws criminalising homosexuality. We watched Ethiopia and Eritrea opening their borders and shaking hands for the first time in 20 years. We saw Ethiopia's Somali region appoint a human rights activist as their president. And not least, we welcomed the first female president in Ethiopia, Sahle- Work Zewde, working in tandem with new Prime Minister Dr. Abiy Ahmed, who has already made progressive reforms and sowed seeds of optimism for civil society and HRDs.
Throughout 2018, DefendDefenders did our utmost to support the human rights movement by empowering and protecting human rights activists from the East and Horn of Africa sub-region. After all, in order to surmount the destructive actions, these strong defenders are a key component to ensure an enabling and active civil society, with human rights as its ground pillar.