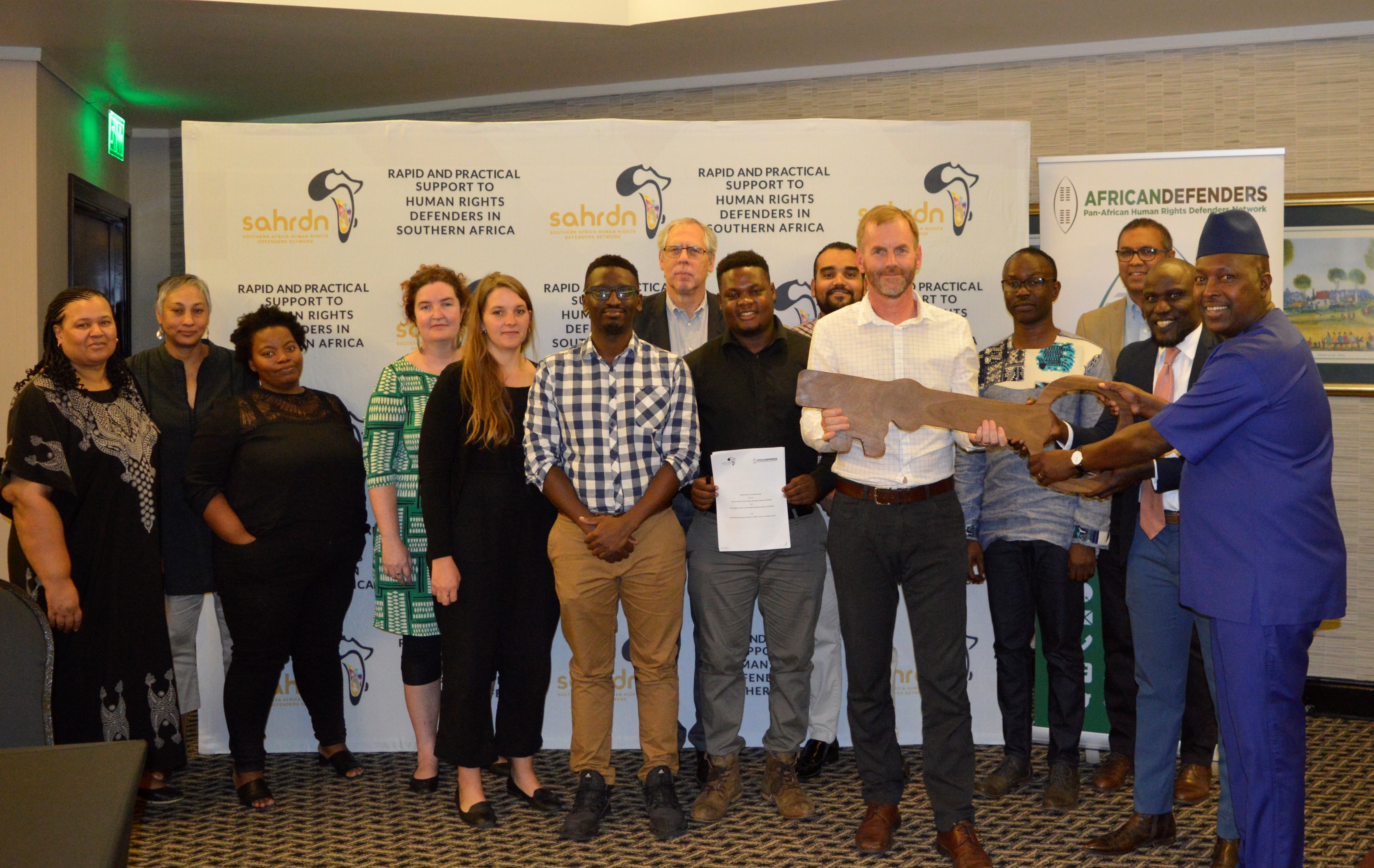 8 February, 2019


AfricanDefenders launches the Ubuntu Hub Cities initiative in South Africa

On 6 February 2019, AfricanDefenders (the Pan-African Human Rights Defenders Network) launched the Ubuntu Hub Cities in Johannesburg, Pretoria, and Cape Town – an Africa based relocation programme for human rights defenders (HRDs). "In designing the concept of Ubuntu Hub Cities, we wanted to challenge the notion that African HRDs cannot be protected within their own continent" said Hassan Shire, Chairperson of AfricanDefenders.

The Ubuntu Hub Cities initiative enables African HRDs who have been subject to threats, violence and extreme pressure, as a consequence of their human rights work, to temporarily relocate and continue their work in a safe working environment, while enriching their experience through professional or educational opportunities.

The persistent violations against HRDs across the continent require strategic and immediate actions for effective mitigation and prevention of the risks faced by HRDs. Various national protection mechanisms have been set up to provide effective assistance to HRDs at risk. However, when these mechanisms  are unable to offer the necessary protection, HRDs can be forced to leave their country due to profound risks to their physical security, liberty, and even life. Relocation is thus a last resort protection measure. The Ubuntu Hub Cities initiative aims to enable HRDs to retreat, physically and mentally, and continue their human rights work in a safe environment. It also supports HRDs to safely return to their respective country when it is safe.

From lessons learnt and best practices identified by similar city-based relocation programmes across the world, the Ubuntu Hub Cities initiative is tailored to the needs of African HRDs. By allowing HRDs at risk to relocate closer to home, Ubuntu Hub Cities tackle issues of cultural displacement, stigmatisation, language-barriers, and integration, providing a durable option that combines safety, rest and respite, and opportunities for  continued activism.

The Ubuntu Hub Cities launch in South Africa brought together HRDs, civil society organisations (CSOs), academic institutions, and human rights experts to share ideas on how to best shape the Ubuntu Hub Cities in the context of South Africa, chosen for its rich history of civic engagement, and the presence of renowned universities and active CSOs.

"Today marks the culmination of what started in earnest when Hassan Shire, Bra Pitso from the Department of International Relations and Cooperation, and I had a brainstorming session in Geneva a few years ago, and recognised that we already had African hubs hosting HRDs who had escaped persecution, but needed a project that structured, recognised and promoted this reality" said Arnold Tsunga, Chairperson of the Southern Africa Human Rights Defenders Network (SAHRDN). "Furthermore, we noted that the Ubuntu value, the African principle that make people in instinctively want to look after each other in challenging times, was what made these hubs safe for HRDs." In addition, AfricanDefenders has been relocating HRDs on an ad-hoc basis for several years, holding great expertise on the matter. By officially launching the Ubuntu Hub Cities, ad-hoc efforts will become more systematic in order to ease the relocation process for HRDs at risk.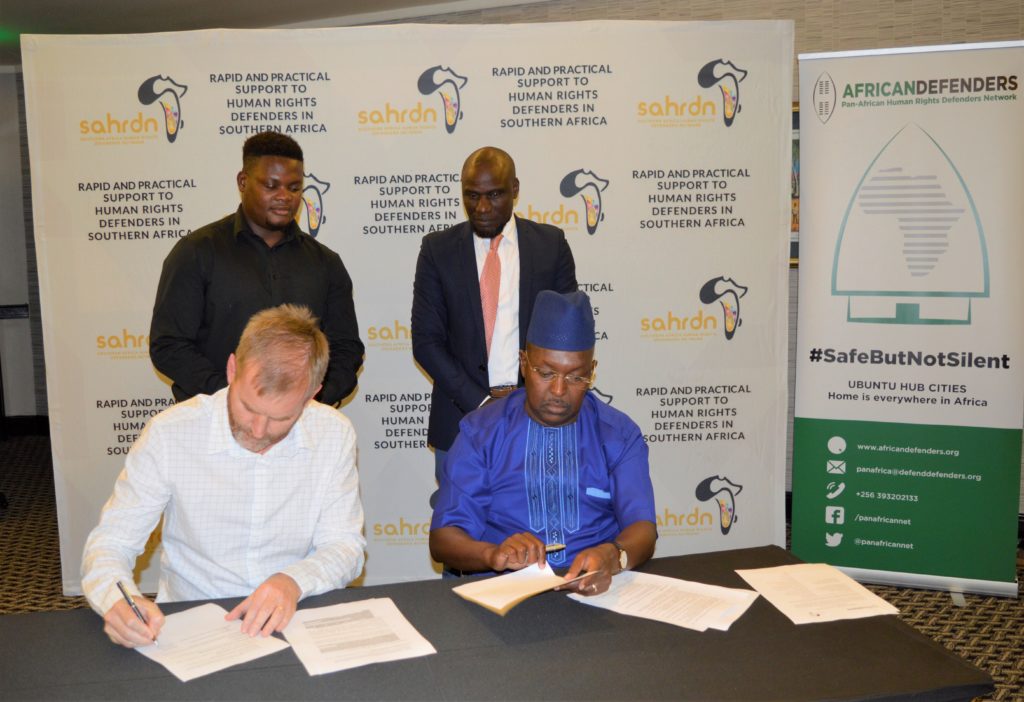 During the launch, HRDs who had been relocated to South Africa shared their experiences, highlighting the importance of the initiative. "I had to ask myself: do I want to go to prison?" said an HRD, remembering the moment he realised he was at risk because of his work. "My answer was that I did not want to stop my activism, so having access to a relocation mechanism allowed me to be safe, but to continue my activism".
The importance of integrating adequate psychosocial support mechanisms during the relocation period is an integral part of this, as well as ensuring that that the initiative reaches grassroots HRDs beyond the most high profile cases.
To mark the launch, AfricanDefenders and SAHRDN signed a Memorandum of Understanding to guide their collaboration in the implementation of the initiative; Mr. Shire symbolically handed over a key to SAHRDN to open the door to at-risk HRDs in the Ubuntu Hub Cities in South Africa.
On 7 February 2019, the AfricanDefenders delegation and SAHRDN introduced the initiative to a series of stakeholders, including the EU delegation to South Africa and diplomatic missions from Austria, Germany, The Netherlands, Denmark, and Ireland. Moreover, the delegation had an opportunity to exchange with the South African Department of Justice and Constitutional Development for further cooperation.
In the coming days, AfricanDefenders will launch the Ubuntu Hub Cities initiative in Abidjan, Côte d'Ivoire, and Tunis, Tunisia.  For more information about the Hub Cities initiative, please see www.africandefenders.org.
________________________________________________________
For more information, please contact:
Hassan Shire, Chairperson AfricanDefenders [email protected]
Joseph Bikanda, Coordinator AfricanDefenders [email protected]