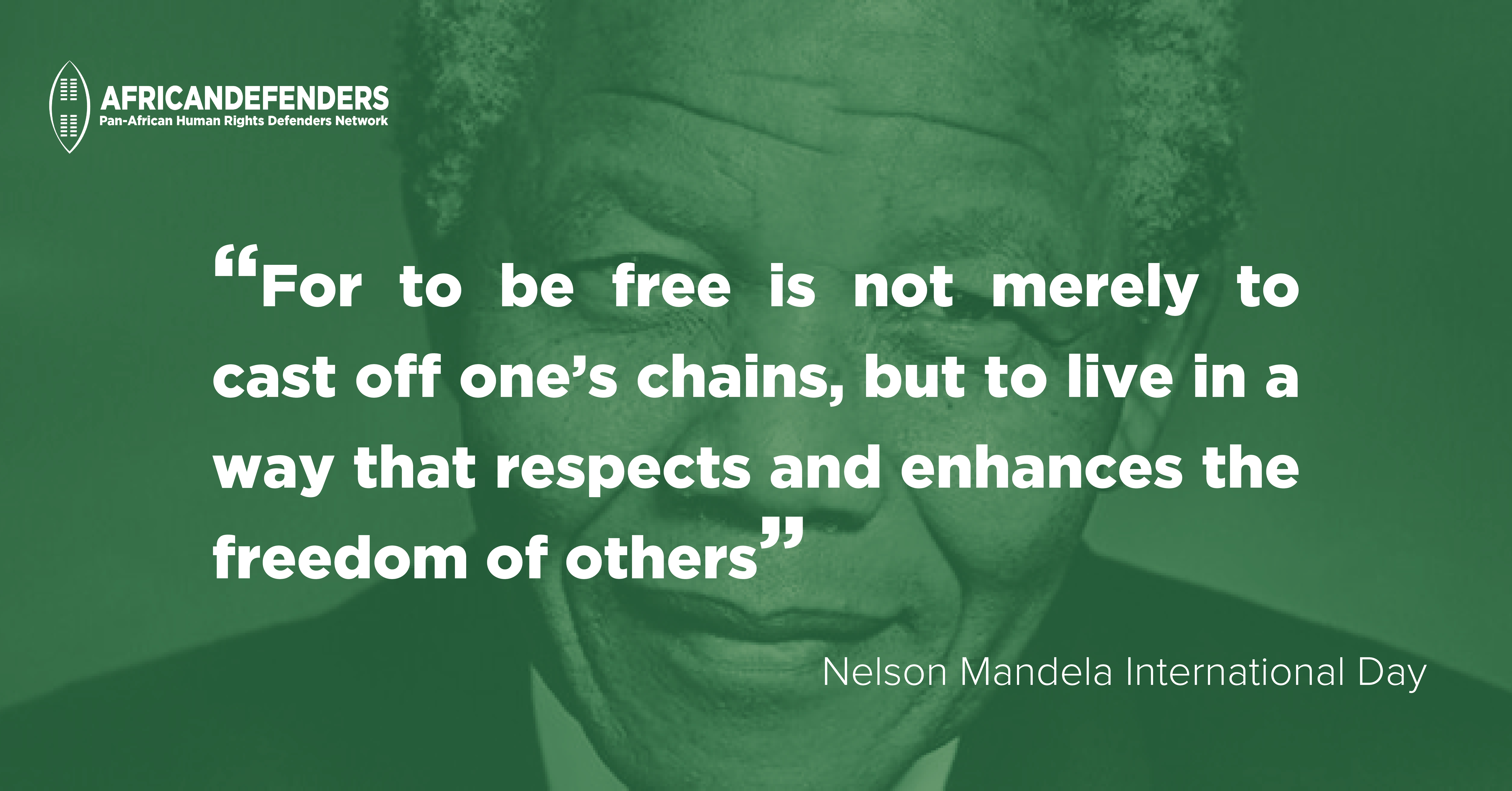 18 July, 2019


AfricanDefenders in the footsteps of Madiba!

Tata Madiba! In your dream, you believed in human dignity, equality, justice, peace and fundamental freedoms: "for to be free is not merely to cast off one's chains, but to live in a way that respects and enhances the freedom of others.''

Tata Madiba! You inspire us. You empowered us and taught us to be a rose between the thorns of discrimination and injustice. A long walk to freedom.

Despite the commitment of our leaders under the African Union Agenda 2063, of a continent united in diversity, shared prosperity, and well being, we have not seen these lofty goals resonate with reality. The Africa we want must have a universal culture of good governance, democratic values, gender equality, peace, and respect for human rights, justice, and the rule of law.

The weaponisation of the law as an instrument of persecution is contrary to your vision, Tata Madiba. Today, on our continent, more human rights defenders, democracy activists, legitimate political opponents, and their families, face persecution including torture, arbitrary arrests and detentions, and summary mass trials without effective legal representation.

Because they have opted to fight for an end to impunity, corruption, injustice, land grabbing, ransacking of our natural resources, or simply an end to discrimination based on race, gender, and sexual orientation, human rights defenders from across the African continent face mounting risks in the course of their work from both state and non-state actors. These factors, coupled with an often-hostile working environment, constrain the effectiveness of their work and the security of individual defenders, their organisations, and their families.

Today, we, AfricanDefenders(Pan African Human Rights Defenders Network) are proud to follow in the footsteps of your Ubuntu values for the dream of a united Africa. In this light, we have established an Ubuntu Hub Cities initiative for the safe relocation of human rights defenders across the continent.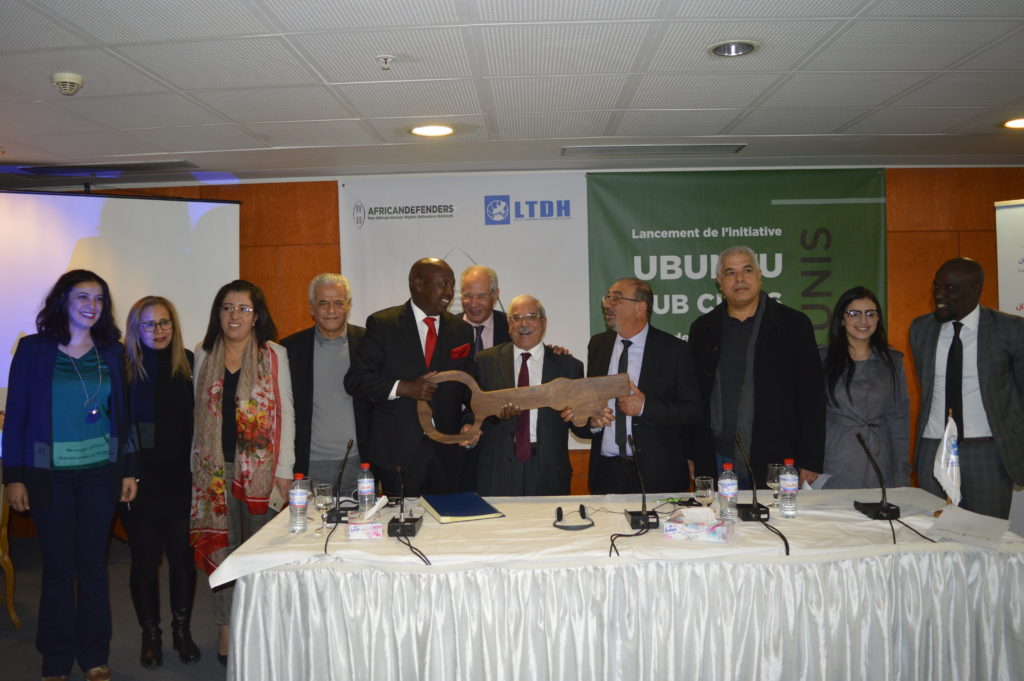 Just like during the anti-apartheid movement when many South Africans benefited from informal safety hubs elsewhere in Africa, we believe this programme contributes to the crosspollination of culture in the communities they relocated to. People like Mama Africa (Zenzile Miriam Makeba) and Hugh Masekela come to mind. We are making our continent host to our own people. Some of the cities are Abidjan, Kampala, Cape Town, Johannesburg, Pretoria, and Tunis.
The Ubuntu Hub City initiative effectively tackles our own obstacles, bringing African solutions to African problems. The programme aims at Africanising, dignifying, humanising, and depoliticising our project to create safe spaces in Africa for human rights defenders. Furthermore, it reflects the Ubuntu spirit: applying African philosophy in building communities that care about the humanity and dignity of all people.
We see these cities as a symbol of long-term resistance to violations of fundamental freedoms and basic rights.
The Ubuntu Hub Cities initiative offers opportunities in Africa for those vulnerable to censorship, harassment, imprisonment, and even death, because of their legitimate work. This includes judges, lawyers, journalists, writers, whistleblowers, and artists advancing fundamental freedoms, defending democratic values, and promoting basic human rights for all. The initiative contributes to improving the quality of social and professional life of the residents of host cities when they gain skills to share. Likewise, human rights defenders also get an opportunity to upgrade their skills and knowledge given the many institutions of learning in the Ubuntu Hub Cities.
Tata Madiba, a little bit more and we will also be able to say: "I have walked that long road to freedom. I have tried not to falter; I have made missteps along the way. But I have discovered the secret that after climbing a great hill, one only finds that there are many more hills to climb. I have taken a moment here to rest, to steal a view of the glorious vista that surrounds me, to look back on the distance I have come. But I can only rest for a moment, for with freedom come responsibilities, and I dare not linger, for my long walk is not ended."
As the world reflects on your legacy, leadership, and devotion to humanity and to humanitarian causes, in solidarity with the spirit of your vision to spread social justice and freedom for all, AfricanDefenders wishes all our fellow Africans a marvelous Mandela Day!