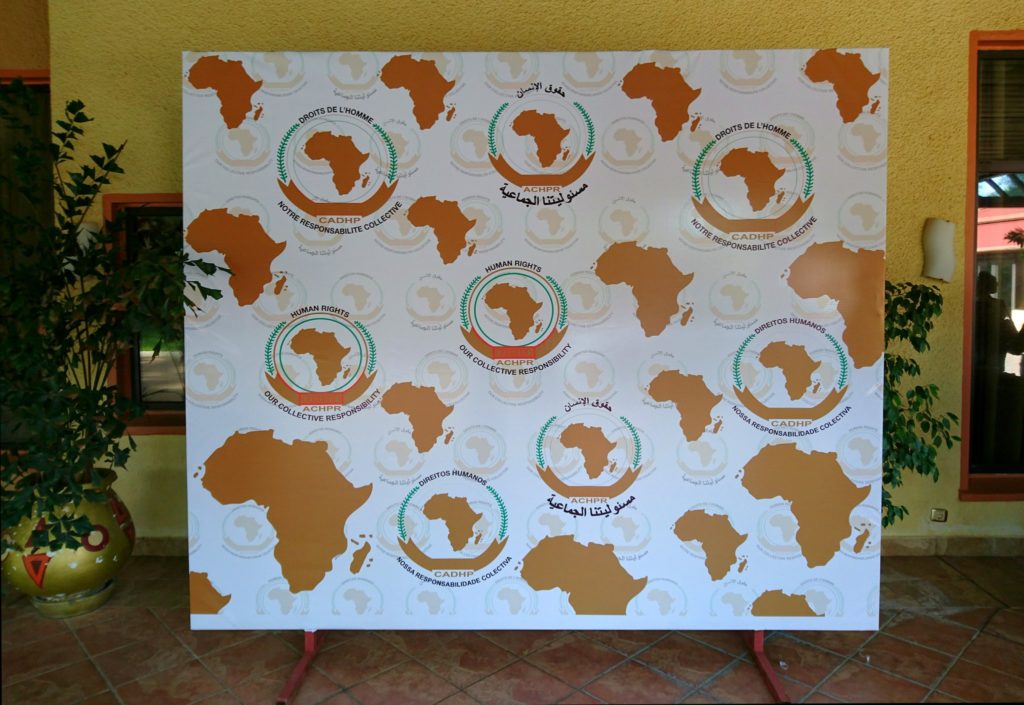 24 July, 2020


AfricanDefenders' and DefendDefenders' oral statements at the ACHPR66

Oral statements delivered by AfricanDefenders and DefendDefenders at the 66th Ordinary Session of the African Commission on Human and Peoples' Rights  which was held online for the first time because of  the global pandemic COVID-19 (ACHPR66, 13 July 2020-7 August 2020)
---
(16 July 2020)
Honorable Chairperson
Honorable Commissioners
Distinguished  ladies, and gentlemen.
I present this Statement on behalf of DefendDefenders and AfricanDefenders
Allow me first of all to congratulate the newly elected Hon. Commissioners who have joined this august house.
The COVID-19 pandemic has exposed existing inequalities in our societies. Measures put in place by states to curb the spread of the virus have greatly affected the work, safety, and livelihoods of HRDs on the African continent. During this period, authorities have either committed violations while fighting the pandemic or used the latter as an excuse to violate rights, including by targeting peaceful critics and independent voices.
While public health measures are necessary to tackle this global pandemic, we believe that rights and the rule of law should be respected. The restrictive measures adopted by several State Parties in response to COVID-19 violated the principle of states of emergency under international law, as well as principles restrictions to rights should follow, in particular non-discrimination and proportionality.
We have documented cases of abuse of power where excessive and lethal force was used by police to enforce confinement measures and target certain groups, including crackdowns on independent voices under the guise of fighting COVID-19 or "fake news."
A human rights-based approach in responding to COVID-19 was not considered in most of the State Parties. Human rights organisations were not listed as essential services, which has affected access to justice. And this has resulted in intimidation and reprisals, as well as stress, trauma, and depression, especially for those who witnessed death and injury in relation to the virus or state actions or those who suffered torture, arrest, incommunicado detention, or threats in relation to their views on the management of the crisis in their countries.
Honorable Chairperson,
HRDs and whistle-blowers played an undeniable role during the pandemic. Especially in advocating for just and legal measures to combat the virus, for example raising awareness of human rights issues associated with lockdown measures, such as the lack of government accountability and transparency to fight the pandemic, lack of access to public interest information, including the performance of governments in their response to the public health crisis and the connected economic crisis, as well as corruption, and increased prevalence of sexual and gender-based violence (SGBV), in particular domestic violence and violence against children. The pandemic has revealed more than ever the importance of freedom of expression and access to information. HRDs should be seen as allies, rather than threats, in a human-rights centered society.
Honorable Chairperson,
Over the last six months, governments in the sub-region have continued to restrict legitimate expressions of civilian dissent, including peaceful demonstrations and gatherings, free expression of HRDs, media professionals, and citizens, as well as targeted civil society organisations through various strategies of harassment and repression. Positive trends and developments have been noted in Sudan, and in January 2020, Sudan took a seat on the UN Human Rights Council – it is hoped that its membership term will be leveraged for domestic progress. The award of the Nobel Peace Prize to Prime Minister Abiy Ahmed, the formation of a national coalition of HRDs, and the fact that Ethiopia now leads the sub-region in media freedom should also be noted.
However, Ethiopia faces uncertainty ahead of its elections, with rising ethnic-political tensions over land and livelihoods and the recent violence in the aftermath of the killing of popular Oromo musician Hachalu Hundessa, which has left at least 239 persons dead. Millions remain internally displaced.
Burundi's election was marked by a climate of repression, fear, intimidation, and widespread impunity.  The election of the new president, General Evariste Ndayishimiye, has not brought hope for social change and for addressing the gross and systemic human rights violations in the country. State agents, ruling party officials, and members of the Imbonerakure militia continue to perpetrate grave violations against civilians. The appointment of a new government, several members of which may be responsible for grave violations, raises concern.
Tanzania continues to aggressively crack down on civic space, HRDs and independent journalists. Ahead of the October 2020 presidential election, members and supporters of the opposition and those peacefully expressing dissent or criticism of the government risk being criminalised or attacked, including via trumped-up economic crimes charges or legislation pertaining to freedom of expression or association online and offline. The recent arrests of opposition politicians, revocation of license of a leading newspaper, and disruption of civil society events mark a continuation of the negative trend observed since 2015.
Restrictions on opposition politicians have also increased in Uganda, which is heading towards its scheduled 2021 elections. Ugandan citizens' rights to freedom of opinion and expression, peaceful assembly and association have been increasingly under pressure. The COVID-19 lockdown, with a curfew in place and heavy restrictions on movement, has been accompanied by reports of police and army brutality against civilians. However, Uganda's vibrant civil society has also registered achievements during the reporting period.
Djibouti and Eritrea continue to be ruled by two of the most repressive governments in the subregion, both ranking amongst the world's worst five abusers of press freedom. While in Djibouti, HRDs work in a very restrictive environment; the context makes it impossible for independent human rights actors and organisations to operate in Eritrea. It should be noted, however, that demonstrations took place in Djibouti in June 2020, following the extradition from Ethiopia and detention of a former army officer. This remains a rare occurrence but signals Djiboutian citizens' desire for change and justice.
Extrajudicial killings, enforced disappearances, torture, forced evictions and other grave violations, often committed by security forces in the name of combating terrorism, or against young men from disadvantaged slum areas, continue to be reported in Kenya.
Censorship of the media and self-censorship by reporters and citizens remain commonplace in Rwanda. Threats to those working in exile are frequent, and pro-government views dominate the domestic landscape. Violations have been reported in relation to the enforcement of lockdown measures; they should be thoroughly investigated.
In South Sudan, after an 18-month delay, a national unity government was formed in February 2020. However, fighting is ongoing in several areas of the country. Intercommunal tensions continue to increase. DefendDefenders has documented patterns of repression, fear and self-censorship facing HRDs and independent actors in the country. We are concerned over increasing inter-communal violence, particularly in Jonglei.
Honorable Chairperson,
We call on member states to adhere to their commitments to protect, respect and fulfil the fundamental human rights and freedoms guaranteed by the African Charter on Human and Peoples Rights; and call on member states to strictly adhere to their human rights obligations while combating the COVID-19 pandemic, including by ensuring that any measures restricting rights are temporary, non-discriminatory, lawful with regard to public health aims, necessary, and proportionate
---
(20 July 2020)
Honorable Chairpersons,
Distinguished Commissioners,
Ladies and gentlemen!
 Allow me on behalf of AfricanDefenders and DefendDenfers to appreciate the work well done by Hon. Lucy Asuagbor as Special Rapporteur on Women Rights in Africa. We welcome as well the leadership of Hon. Commissioner Zainabu Kayitesi and we are looking forward to working with her.
"The work of defending human rights is already very difficult work and when you add the additional responsibilities that women have, given the patriarchal nature of our societies, it becomes even more difficult."
During this pandemic, women are facing economic insecurity and poverty-related stress, social isolation issues, disaster and conflict-related unrest, reduced availability of health services, and exposure to exploitative relationships, with the inability of women to temporarily escape abusive partners. The restrictive measures imposed by African States and other movement restrictions have forced many women to remain confined in their homes which has led to an increase in sexual gender-based violence at the domestic level.  Furthermore, many women are unable to report these cases of violence against them, and WHRDs are also unable to provide the victims with the assistance they need due to movement restrictions. Globally there has been an increase in domestic violence cases between March and April 2020.
Gender based violence despite numerous guidance and resolutions of this commission has not decreased on the continent and women continue to suffer the consequences.
Honourable Chairperson,
The domestic responsibilities, such as childcare and general household chores often fall on women, especially in Africa. With schools closed across the continent and children at home all the time, it can be more difficult for women to balance these duties with their activism roles. While activism work has largely moved online under COVID-19 restrictions, many women may struggle to access stable internet connection. Some WHRDs can access the internet, however the women they support especially in rural areas do not have this kind of connectivity creating a divide between groups who can access support during this time. With more online activities, cyber-attacks on women have increased, women are unable to access basic health services and report cases of violence due to lockdowns and restrictions of movement. As a result, WHRDs are unable to document these cases and facilitate women's access to justice, as they cannot lodge complaints and ensure case follow-up.
Honourable chairperson,
The psychological effect of COVID-19 on women has gravely impacted their life, as they are unable to access social networks such as church/mosque groups and other informal women groupings, which provide great support for women. Women working in conflict situations as well as refugee women are experiencing patterns of gross human rights violations and these violations are worsening as there are no one to monitor and report these abuses due to COVID-19 restrictions.
We call on this commission to take necessary measures to ensure that States parties comply with the full implementation of Maputo protocol provision.
I thank you.
---
(23 July 2020)
Honourable Chairperson,
Distinguished commissioners,
Ladies and gentlemen!
We welcome the report of the Special Rapporteur on Human Rights Defenders in Africa and would like to reiterate the many challenges faced by Human Rights Defenders in Africa such as impunity, domestic violence and internet accessibility issues.
We have documented a range of acute threats around digital security in Africa during this pandemic as HRDs have moved their work online across the globe. HRDs are now more vulnerable because they cannot resort to previous personal security measures such as frequently changing location and routes to avoid being followed. The people who may want to threaten them now know where they are day and night due to lockdowns. We have also noted thatthr  COVID19 Pandemic has become a pretext to postpone elections in some countries in Africa. Governments should not suspend their consultations with citizens and civil society, but they should put in place necessary measures for democratic processes to continue in a safe manner.
Honourable Chairperson,
Over the last six months we have documented cases of human rights violations against hrds, journalists and artists on the continent and the statistics are alarming with a total of up to 82 cases being recorded during this period. We documented 26 cases in North Africa, 11 cases in West Africa, 12 cases in Central Africa, 22 cases in East and Horn of Africa and 11 cases in Southern Africa. These cases were ranging from violations against freedom of expression, right to personal liberty, freedom of peaceful assembly and association amongst others
Tanzania recorded an increase in the arrest of activists, among others the renowned Tanzanian comedian Idris Sultan who was released on bail in May 2020. Those who are still in prison face a heightened risk of contracting the life-threatening virus given poor prison conditions.
We have seen an increasing limitation on the work of HRDs in Ethiopia and Uganda. Authorities in Mauritania are still arresting bloggers and HRDs. The Moroccan government attempted to adopt a law restricting the use of social media. But due to civil society pressure the bill was overturned. The Egyptian government is using the counter-terrorism law to curb freedom of expression. And more lawyers and HRDs are being imprisoned unlawfully.
Despite the call made by Madam Michelle Bachelet and this very commission in preventing the devastating impact of COVID19 in places of detention, many HRDs in Africa still remain in prisons particularly in Burundi, Cameroon, Egypt, Tanzania, Algeria and Zimbabwe.  These are cases of HRDs who have been targeted specifically for telling the truth about COVID-19, or fighting impunity and corruption, including criticizing how their governments have dealt with the COVID crisis.
Honourable Chairperson,
It is important for this august Commission to share best practices with African States in securing releases using strategies that not only advocate for the release of HRDs on the basis of the unlawful detention but also on health grounds.
Honourable chairperson,
As we are preparing to celebrate the Pan-Africa Women's Day on 31 July, We would like to bring to your attention that many women are unable to report cases of violence against them, and WHRDs are also unable to provide the victims with the assistance they need due to movement restrictions. The increasing impunity on violence against WHRDs is alarming on the continent. Just last month, the Appeals court in Maputo- Mozambique overturned the verdict handed to Rufino Licuco by the High Court of Mozambique in February 2017 for the crime of serious physical and psychological violence against Josina Machel, an activist with Kuhluka Movement which left her blind in her right eye.
The Appeals court's decision magnifies the continuous contention between women who seek justice, and the resolution of cases demonstrates the paradox of both the interpretation and application of the law. It is a revelatory example of the glaring shortfalls of implementation of legal frameworks and legislation designed to serve and protect survivors and victims of gender-based violence across the continent.
Honorable Chairperson,
Women Human Rights Defenders play a critical role in advancing the rights of women and girls, challenging inequalities and holding those in power to account. We call on this Commission to urge State Parties to implement the recommendations contained in the Study of the Commission on Women Human Rights Defenders in Africa adopted in 2014.
I thank you Chairperson