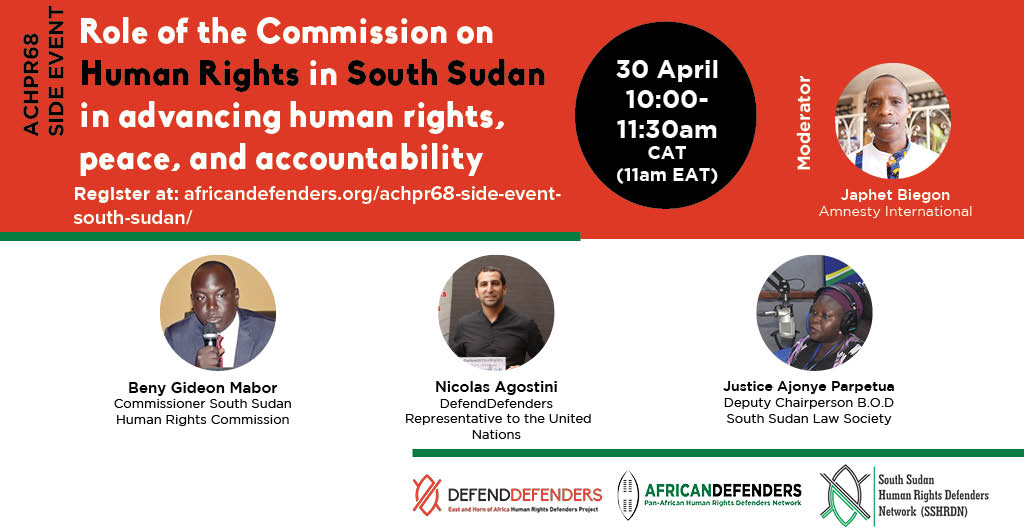 29 April, 2021


Role of the Commission on Human Rights in South Sudan in advancing human rights, peace, and accountability
68th  Ordinary session of the African Commission on Human and Peoples' Rights (ACHPR)
Parallel hybrid event on the South Sudan
Date: 30 April 2021
Time: 11:00h- 12:30h EAT; 10:00h- 11:30h CAT
Register Here
Background
Two and a half years after signing of the Revitalised Peace Agree­ment, South Sudan faces major governance, security, huma­­ni­tarian, and human rights issues. Fighting continues in parts of the country, and inter-communal tensions and conflict threaten the coun­try's stability and people's safety, human rights, and livelihoods. Many human rights concerns remain unaddressed, and human rights defenders, jour­na­lists, and other independent actors face sustained pressure. Impunity remains widespread for human rights violations and abuses. Patterns of sexual violence, grave violations, and international crimes continue to be reported, including deliberate targeting and starvation of civilians while justice and accountability remain elusive.
Despite the South Sudanese Government's approval of a plan by the Ministry of Justice and Constitutional Affairs to set up transitional justice institutions, including the Hybrid Court for South Sudan, the plan is yet to be implemented and these mechanisms operationalised to achieve justice and hold perpetrators of the most serious crimes to account. In the meantime, the UN Commission on Human Rights in South Sudan (CHRSS) remains the only international mechanism mandated to collect and preserve evidence of violations with a view for future prosecutions. Although its mandate was renewed during the 46th session of the UN Human Rights Council (UN HRC), it faced strong resistance from South Sudan and African states in Geneva.
The significance of the CHRSS cannot be overemphasized, it is a vital mechanism and one of the strongest creations of the UN HRC. While it focuses on a human rights mandate, its work is also part of African and international efforts to usher in sustainable peace, stability, and respect for human rights in South Sudan. It is therefore important to build support for it at the regional level and raise awareness of its value until the transitional justice mechanisms set out in Chapter V of the Revitalised Peace Agreement are operational and effective
Objectives of the side event
Create awareness and increased visibility on the mandate of CHRSS and its role in ensuring peace and stability on the continent
Reiterate support for human rights scrutiny of South Sudan (investigations, monitoring, public reporting), by African and international bodies and mechanisms, including the ACHPR.
Re-emphasize the interconnection between regional and international mechanisms (the HRC, the CHRSS, the ACHPR),
Strengthen South Sudanese and African civil society support for investigative and monitoring mechanisms, such as the ACHPR and its Rapporteur for South Sudan, and the CHRSS,
Urge the ACHPR to continue to dedicate attention to South Sudan and engage the government.
Panelists
Beny Gideon Mabor- Commissioner South Sudan Human Rights Commission
Nicolas Agostini, DefendDefenders Representative to the United Nations
Justice Ajonye Parpetua, Deputy Chairperson B.O.D South Sudan Law Society
Sambro Lupai- Radio Personality
Japhet Bigeon, Amnesty International Moderator
Register Here