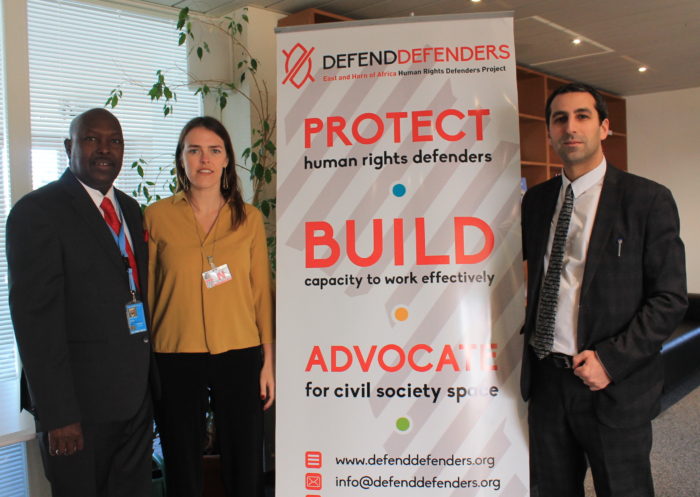 26 septembre, 2019


Enhancing human rights defenders' protection: DefendDefenders at the UN Human Rights Council

This article was first published by DefendDefenders.

Today, the 40th session of the United Nations Human Rights Council ("the HRC"or "the Council") opens for four weeks in Geneva. A DefendDefenders delegation led by the Executive Director, Hassan Shire, will actively advocate for enhanced protection for human rights defenders (HRDs) across the East and Horn of Africa.

 "The Council is a key forum to highlight the challenges faced by HRDs in our region, and we will do our outmost to make sure that the outcomes of this session result in more protection, and more space, for HRDs on the ground," said Shire.

At the 40th session (HRC40),DefendDefenders will focus its efforts on South Sudan and HRDs, as a resolution with a focus on environmental HRDs is due to be discussed. "The Council should build on its 2018 achievements and adopt strong, substantive resolutions that help South Sudan find its way towards lasting peace and justice, and HRDs be better protected," said Nicolas Agostini, DefendDefenders' Representative to the UN.

In order to ensure that the voices of HRDs from the sub-region are heard, we are accompanied by South Sudanese HRDs to the session. "The South Sudanese people look at the UN with hope. We need ongoing support for investigations into the crimes committed, accountability for the perpetrators, and institution-building to advance lasting peace and reconciliation," said Aluel Atem, one of the two South Sudanese social activists accompanying DefendDefenders to the HRC40.

The gross violations of human rights and international humanitarian law, some of which may amount to war crimes and crimes against humanity, and most of which remain unaddressed, call for continued UN attention to South Sudan. Ahead of HRC40, DefendDefenders coordinated the drafting of a joint letter on South Sudan, calling on the Council to renew the mandate of the Commission on Human Rights in South Sudan (CoHR).
Over the session, the Council will also discuss a resolution on HRDs with a focus on environmental HRDs — one of the most at-risk and marginalised group of defenders. Our latest report on marginalised HRDs in Uganda, Kenya, and Tanzania, "To Them, We're Not Even Human," identifies severe threats facing indigenous HRDs in the sub-region, including lack of access to justice, and deprivation of their economic, social, and cultural rights, as well as threats, harassments, and violence due to their human rights work.
Based on our findings, we published a briefing paper on environmental HRDs ahead of HRC40, outlining our recommendations, and prompting states to support the development and adoption of a substantive resolution on environmental HRDs.
Throughout HRC40, we will engage in consultations with states, including the Norwegian Ministry of Foreign Affairs, which leads the UN resolution on environmental HRDs, and other actors such as the Office of the UN High Commissioner for Human Rights (OHCHR). We will also host a side event on South Sudan, and join a group of non-governmental organisations (NGOs) led by CIVICUS in a side event on environmental HRDs.
For more information about DefendDefenders work at the UN level, please visit our website, or contact Nicolas Agostini, DefendDefenders Representative to the UN at [email protected].